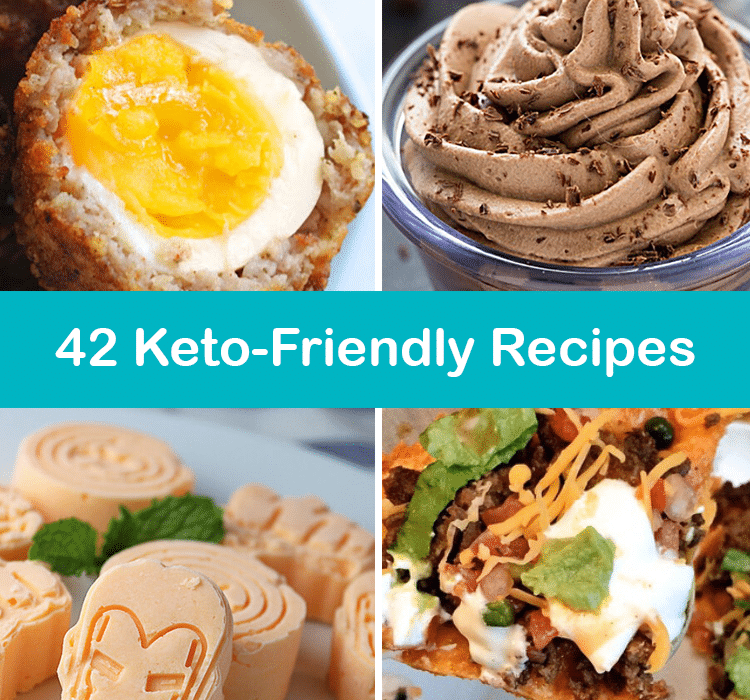 A ketogenic diet is a totally different take on nutrition–it focuses on high fat, low carb (and adequate protein) intake in order to switch the body's main source of energy from glucose–which is a breakdown product of carbohydrates–to ketone bodies, which are a breakdown product of fats.
Though its medical purpose is to treat epilepsy, many people enjoy great health and wellbeing results from cutting out carbs and focusing on fats as their main source of calories instead, and while it may initially seem odd, it offers more flexibility than many other diet systems which practically exclude an entire food group–and it's easier to stick to once you get over the adjustment period, too!
Snacks
Filling the gaps between meals is especially important in the early stages of going keto, since you're training your body to use fat instead of sugar for fuel – and that means you'll need a few snacks to get you through the day.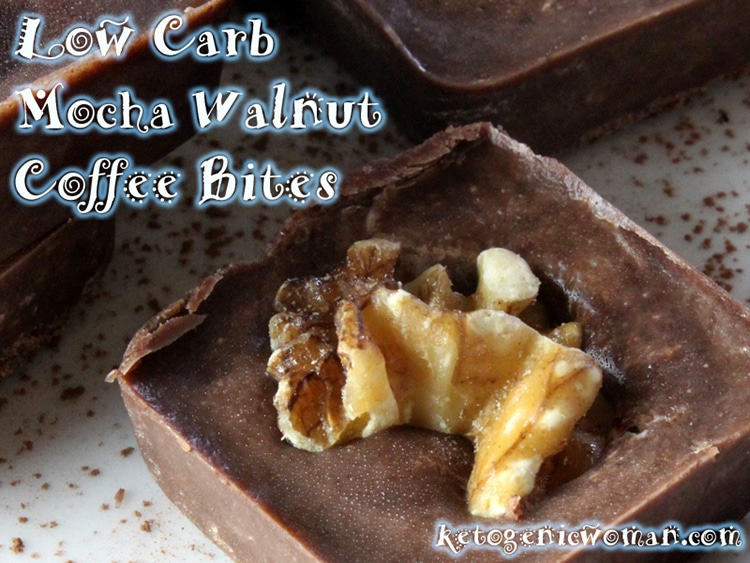 These fat bombs are the perfect thing to boost your energy levels when you need a quick treat. Who could resist the combination of chocolate, coffee, and nuts?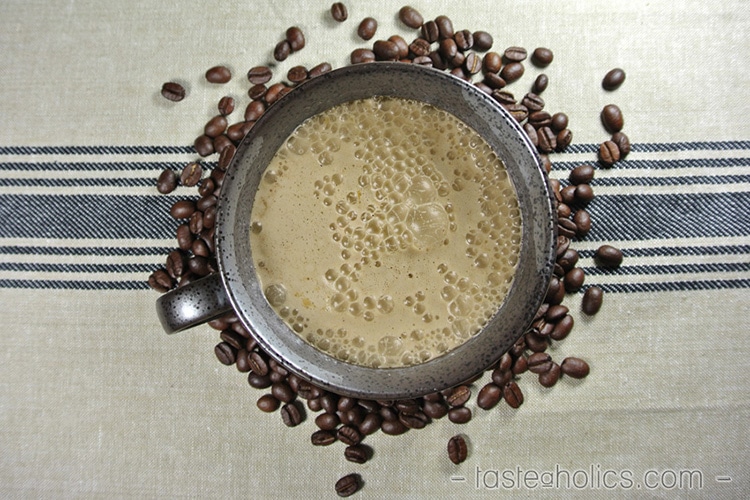 The classic keto morning beverage is half drink, half snack, and the perfect high-fat hit first thing in the morning, or when your energy levels start to wane in the afternoon. It's as easy to make as a smoothie and totally carb-free.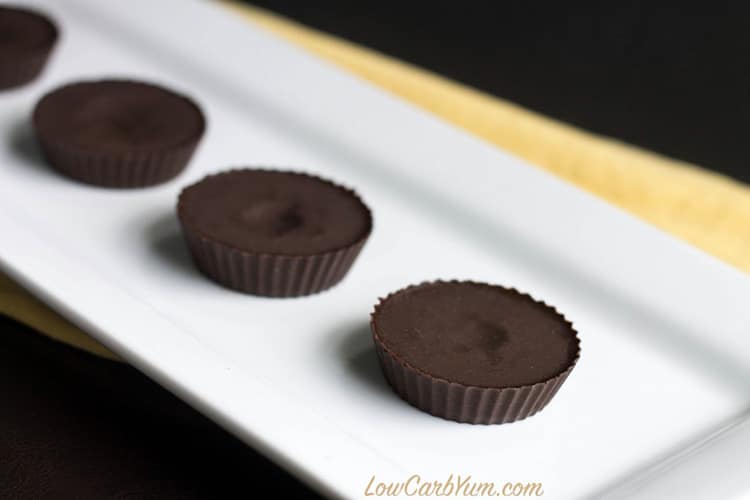 Just like a peanut butter cup, only Keto friendly! These little treats are the perfect on-the-go snack for a quick boost between meals, and they're easier to make than they seem at first!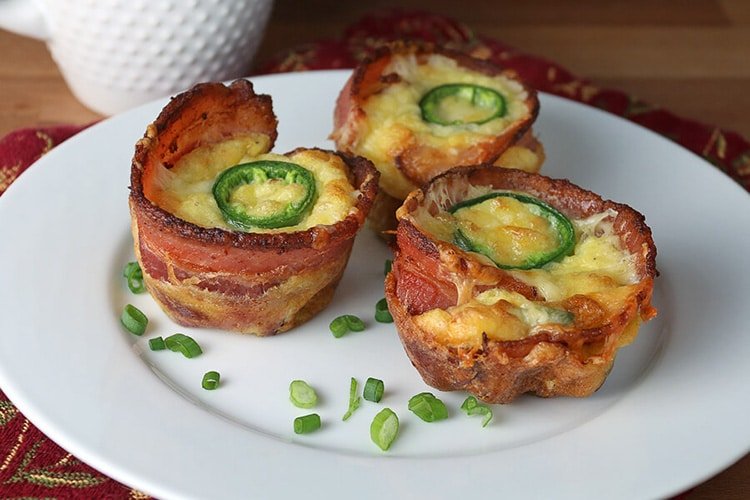 These egg cups could just as easily make a great breakfast, but their portability means they also make an excellent snack, and they're as close to carb-free as a dish like this can get.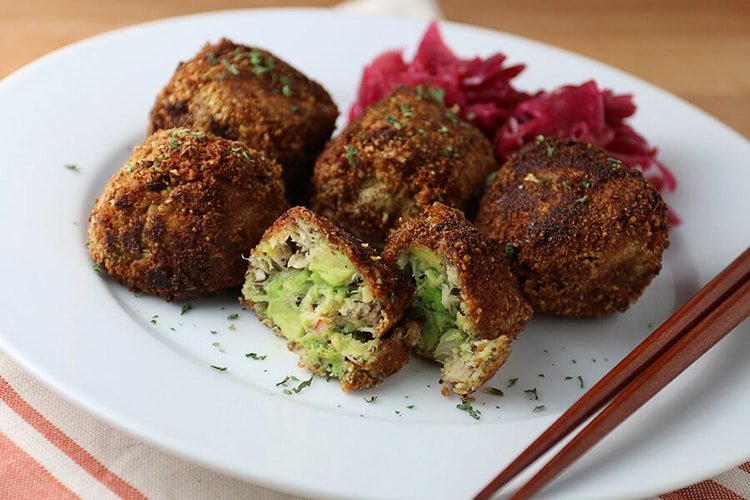 These little almond-crusted bites would make a great snack food or lunchbox filler. You may want to double the batch–all reports say they're addictive!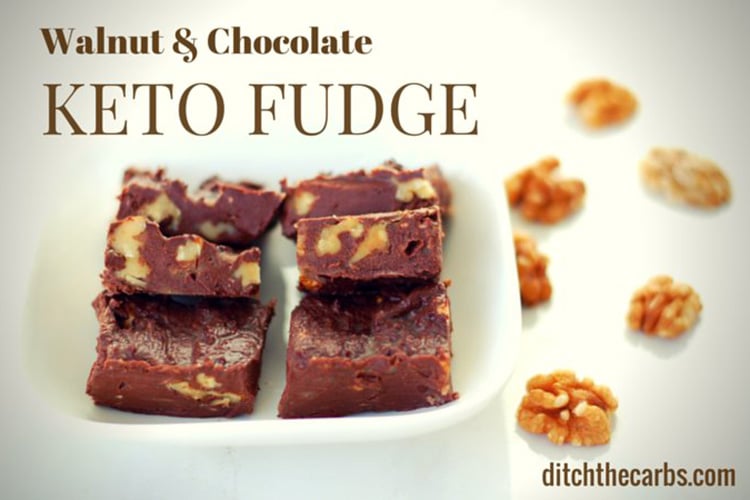 This quick-and-easy fudge is a great snack option, and so simple a child could make it. The addition of walnuts adds a nice crunch, but you could just as easily leave them out if you're not a fan.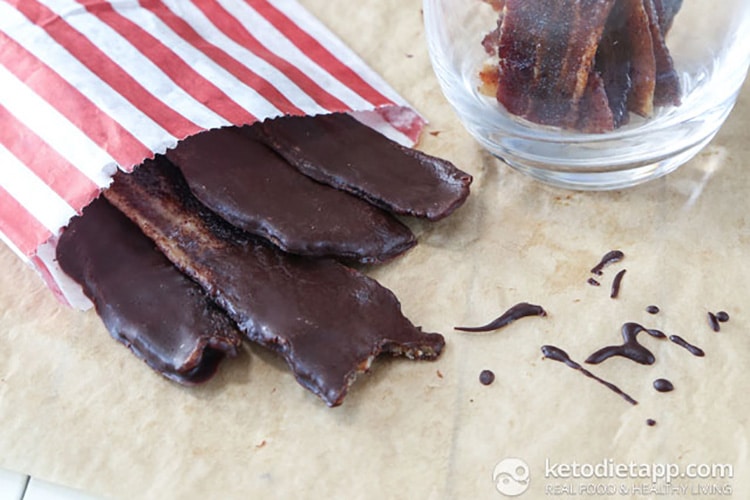 As ridiculous as this combination may sound, the salty-and-sweet flavours of candied bacon and chocolate are nearly impossible to resist if you're brave enough to try them.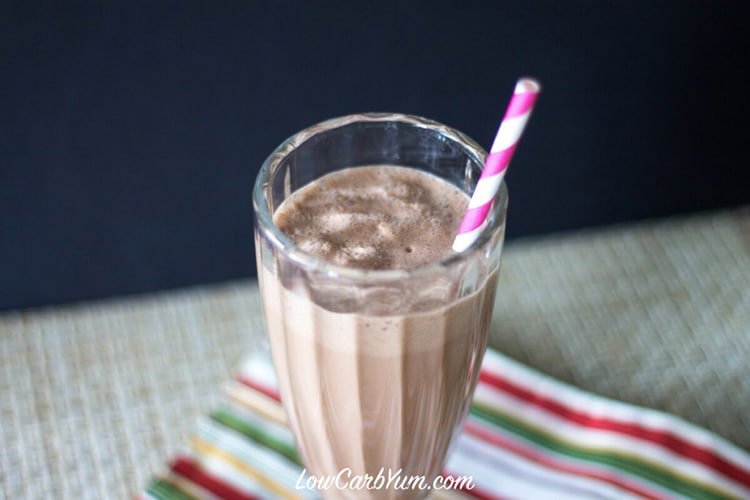 Not every snack has to be solid! This to-die-for chocolate and peanut butter milkshake has everything you could want in a keto-friendly snack and is quick and easy to make!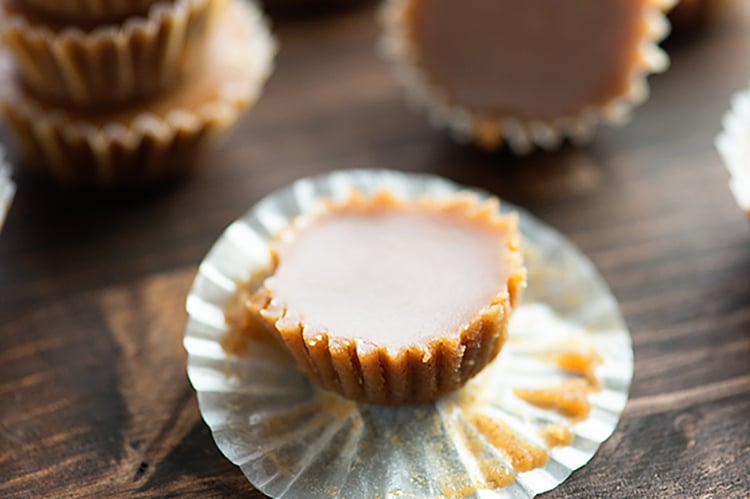 The combination of maple and almond in these delicious little bites is amazing, and they couldn't be simpler to whip up. Plus, they're perfectly portable in individual cases!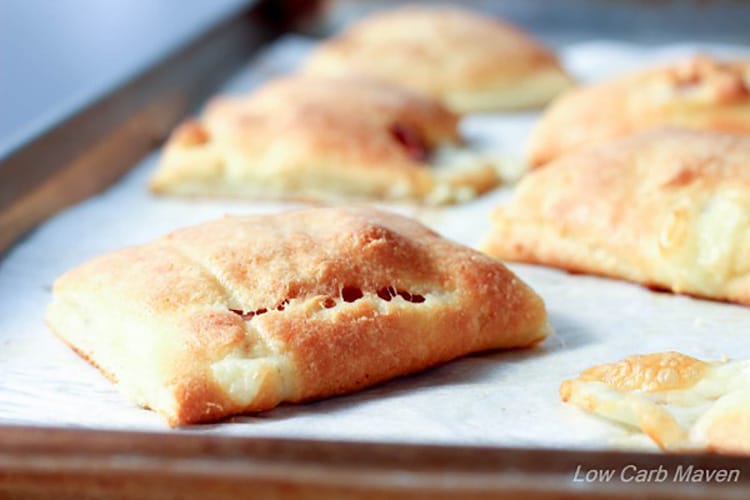 Great for lunchbox snacks and on-the-go eating, these tasty pockets are so fluffy and delicious that you'll barely believe they're not real bread! They've even got added protein powder to help you get back on your feet mid-afternoon.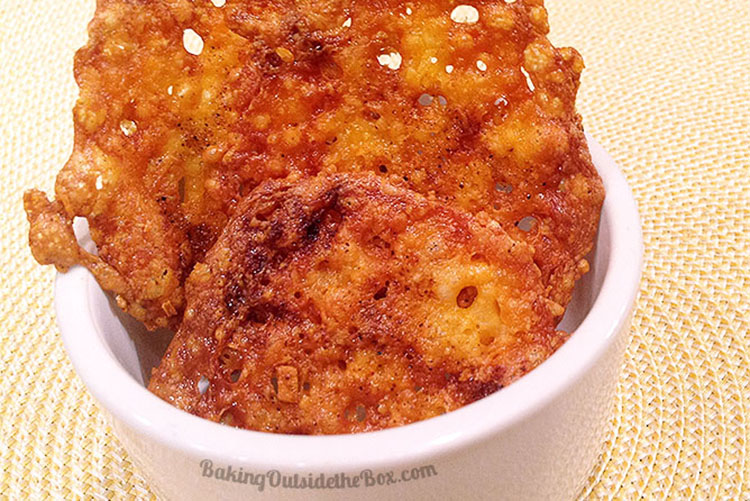 You read that right! Here's a keto friendly version of the humble corn chip, complete with comes-off-on-your-fingers flavouring! The recipe says the serving size is one chip, but we've calculated the nutritional value for the whole batch, because nobody eats one chip.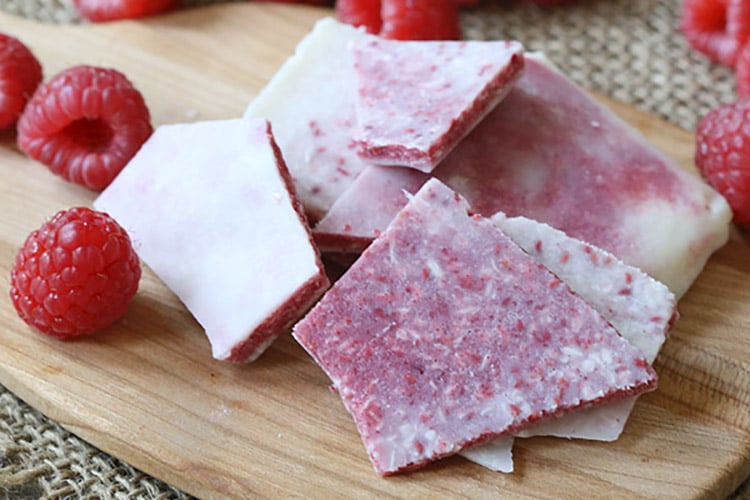 Tired of fudges and truffles? This chocolate-like bark with tangy raspberry makes a great snack option when you could use a sweet treat. It's lower-carb than you'd expect with the raspberries, too!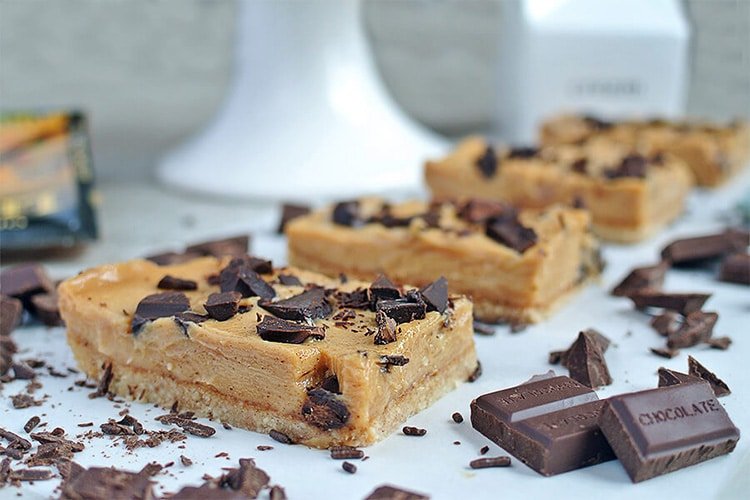 Classic peanut butter fudge gets a keto-friendly update in this recipe, which would be very popular with kids–as long as the adult making them doesn't eat the whole batch first!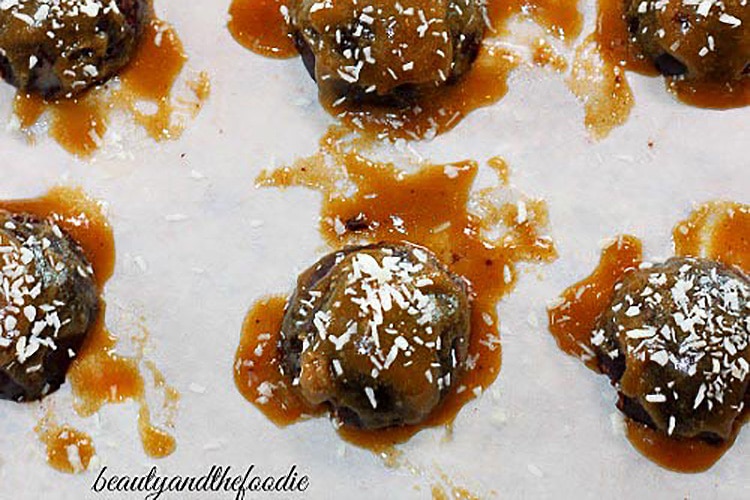 These girl scout cookie-inspired fudge bombs are about as low carb, high fat as you can get. They don't skimp on the flavour, either, and taste more or less exactly like the cookie, without the keto-breaking flour content.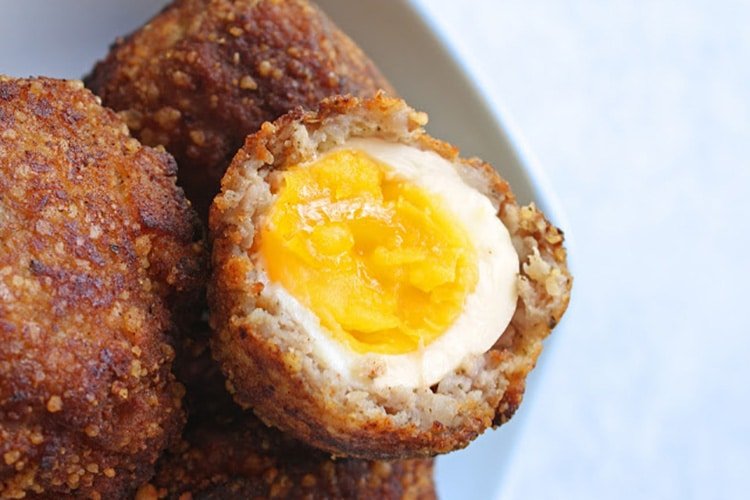 Scotch Eggs are a delicious, high-fat, low-carb snack that travel well in lunchboxes and make a tasty treat for those who prefer their snacks to be savoury. This version ditches the breadcrumbs in favour of a tasty, cheesy coating.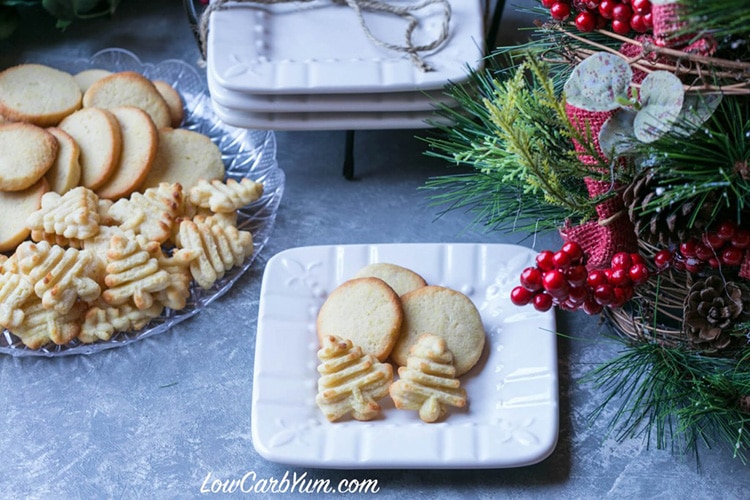 These fabulous sugar cookies are great all-year round and can easily replace the dough for traditional Christmas pressed cookies, too! They're easy to make and the results are almost better than the regular version.
If you need whey protein or peanut butter for any of the above snack based recipes you can buy it at MyProtein with 10% off at the moment.
Mains
These dishes are developed to limit the carbs without cutting out any of the flavour. One of the great things about going keto is that you get to eat practically unlimited amounts of previously 'bad' foods, like cheese, cheese and more cheese! Eggs and bacon also feature a lot in keto recipes–you want plenty of fat, after all!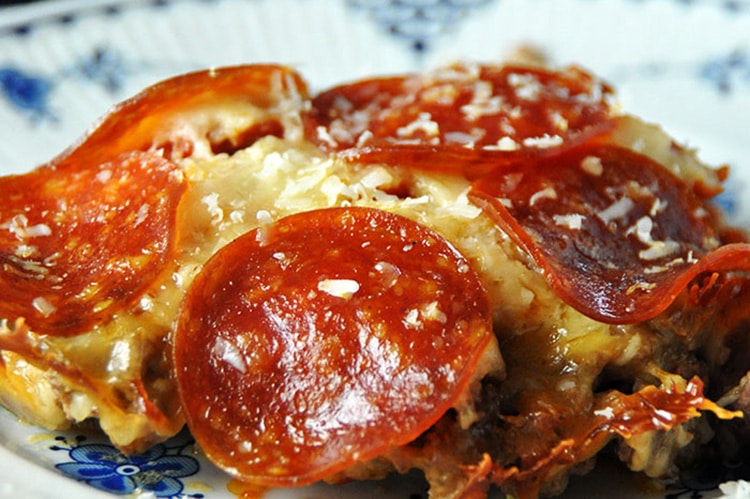 This clever 'pizza' recipe couldn't be simpler–just throw it in your crock pot and let it bake away while you're doing other things, and come back to a delicious meal that'll satisfy your pizza cravings despite being low-carb.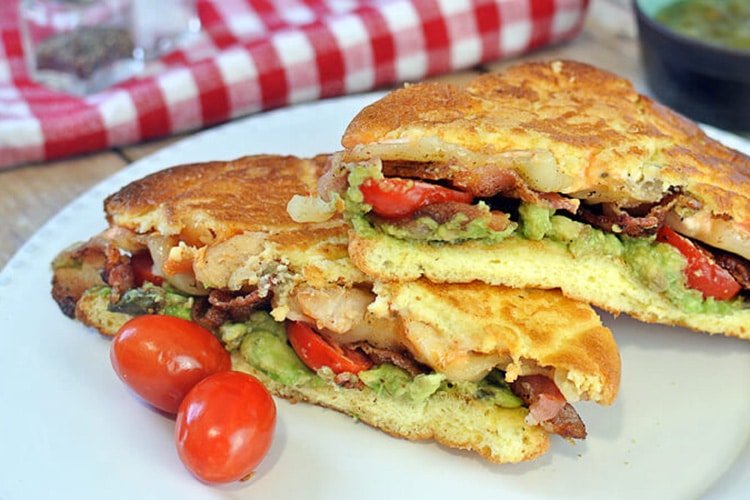 The recipe for this sandwich actually makes two servings, so although the 'bread' is a little involved, it's worth making this up, especially if you want to impress someone. Cloud bread replaces grain-based bread in this dish, which helps it stay low-carb.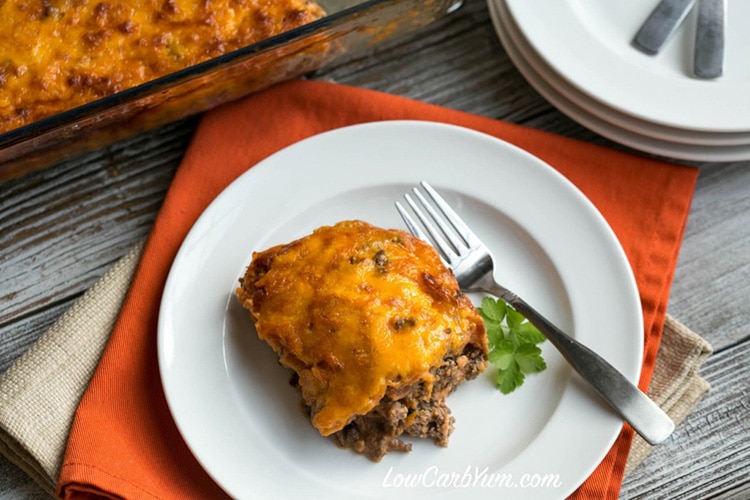 Simplicity is the keyword in this recipe–you only need to combine a few ingredients to make a delicious, filling casserole that'll serve up to 12 people! How's that for quick and easy?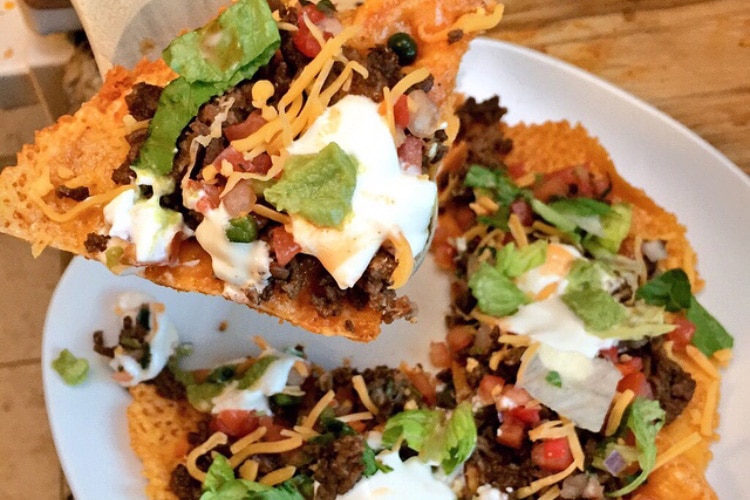 Do you like cheese? If you're committed to the keto lifestyle, you probably do, which is good–because this recipe uses a 100% cheese crust instead of a traditional bread one to make a low carb, high fat Mexican-inspired pizza.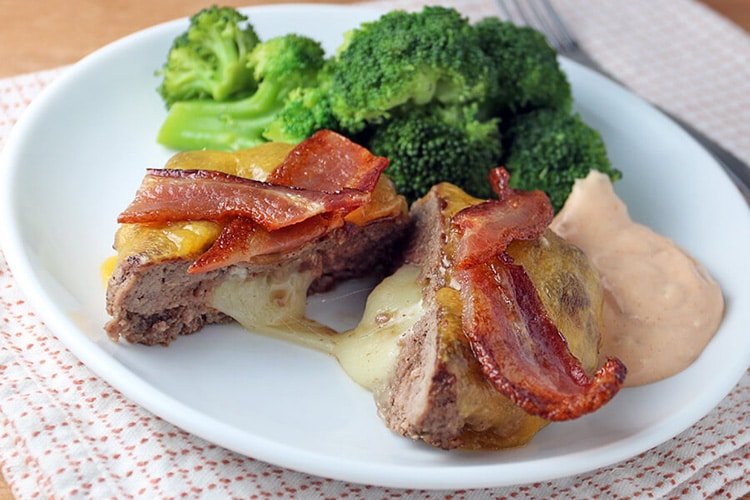 Who needs a bun? This tasty cheeseburger is stuffed with gooey, melty cheese, adding juicy flavour to a ground beef patty topped with bacon. It's way better than the takeout version and practically carb-free!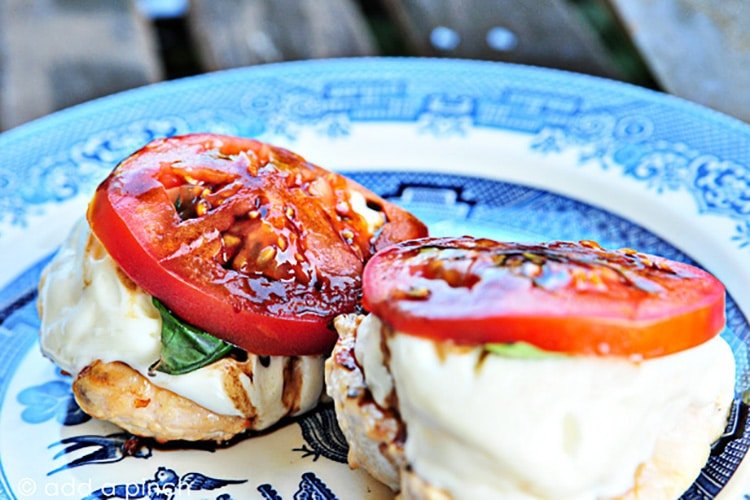 This pared-back version of a classic Caprese salad makes for a great mid-week dinner that tastes light (but has the requisite amount of fat to make it a good keto option) and isn't nearly as difficult to make as it tastes!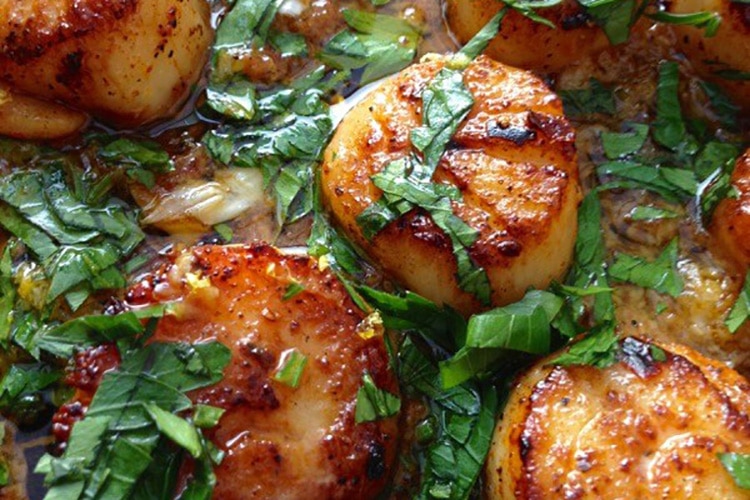 Indulge in these buttery, garlicky scallops without any guilt at all–the only carbs in the recipe come from the garlic, and there's not enough of that to make much of a difference at all! This dish comes together in minutes, so it's a perfect mid-week option when you don't want to spend all night in the kitchen.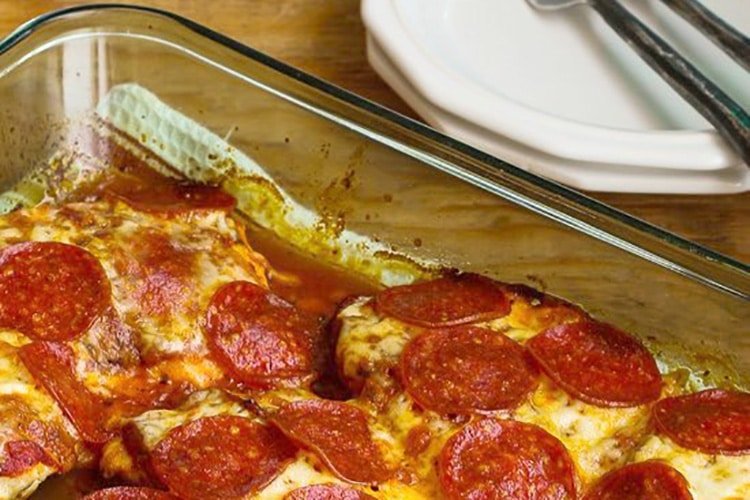 Turns out that pepperoni and cheese go really well with chicken! This bake is reasonably low-carb as it is, but the carb content can be cut even further by making your own pizza sauce.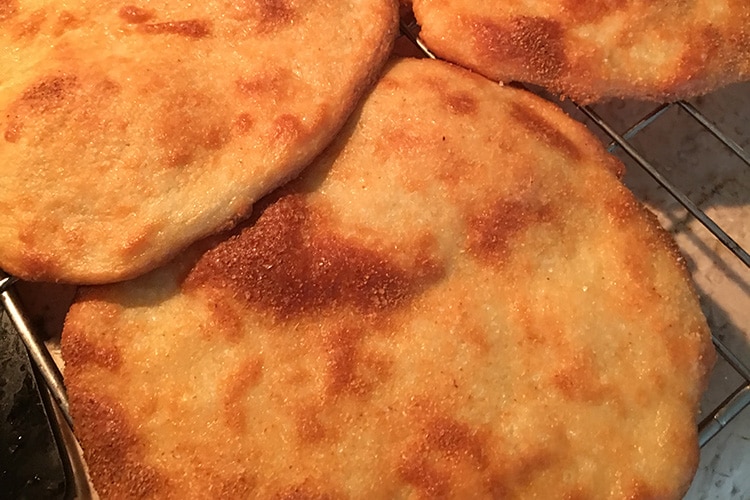 This grain-free pizza crust is the perfect base to make your own pizza in whatever way your heart desires without the added carbs. Made with almond flour and cheese, you could also eat it as a bread substitute to satisfy any lingering carb cravings.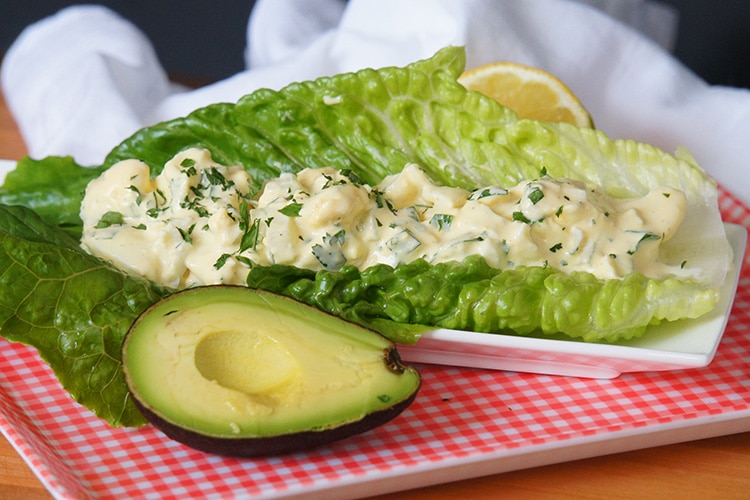 This classic egg salad is extremely keto-friendly, and can be served as a main dish or a side, depending on how fond of it you are. It's also a great dish to take to a potluck or picnic.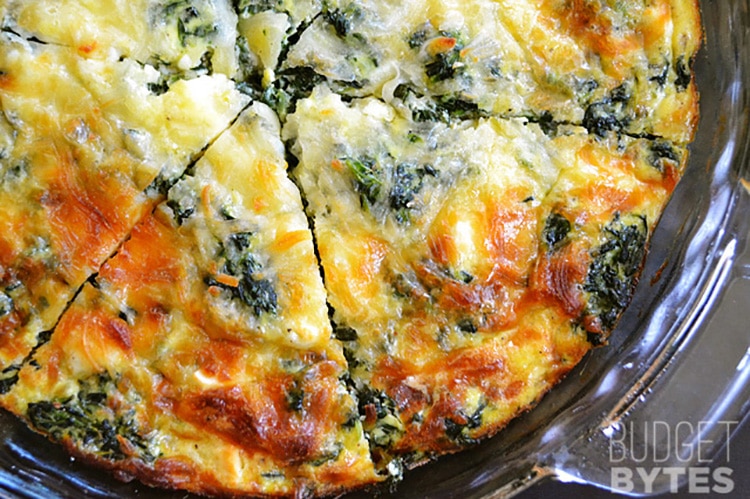 Eggs are one of the Holy Grails of keto food, and this quiche makes them the star of the show while keeping things interesting. This is more like a frittata than a true quiche, but it's still delicious!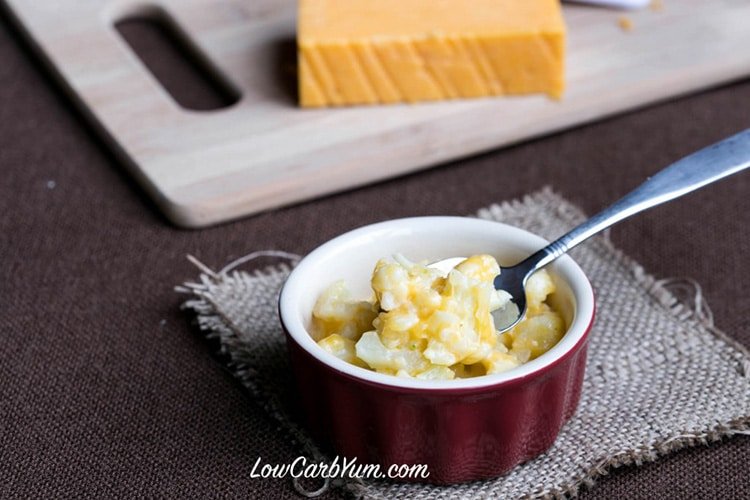 All the delicious, comforting goodness of mac-n-cheese without the carbs? What more could you want! This recipe comes together super quickly in the microwave, so it's great if you're in a hurry or can't be bothered slaving over a hot stove.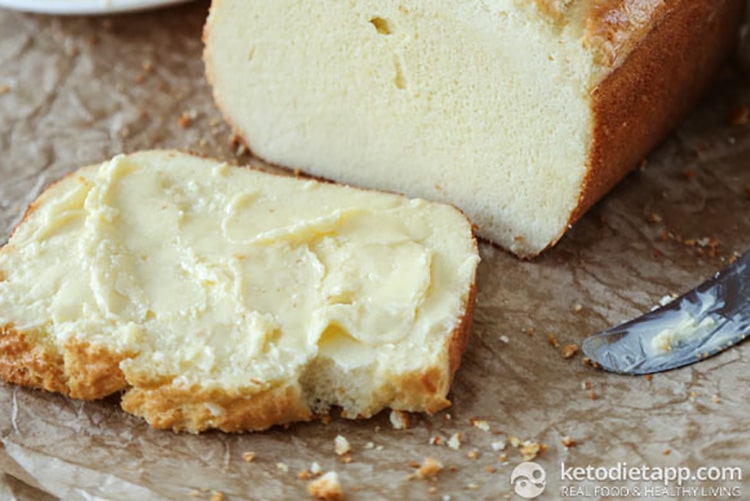 Sometimes, bread is the only thing that will satisfy a particular craving, but it's the first thing to go on a keto diet. Enter soul bread, the low-carb, high fat, but still fluffy and delicious alternative to regular white bread. It's perfect for sandwiches, toast, or fresh from the oven smeared with butter.
This soup only takes minutes to prepare and uses just a handful of ingredients, so it's the perfect thing to set and forget. It makes for a hearty, warming meal on cooler days and would freeze nicely for a later date.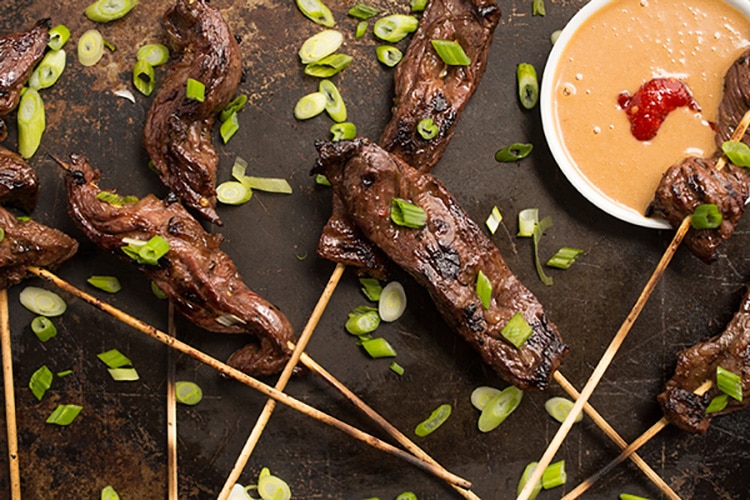 The combination of tasty satay beef skewers and creamy dipping sauce in this recipe is sure to make you look forward to dinner. Packed with peanutty goodness, this dish comes together quickly and tastes restaurant-good.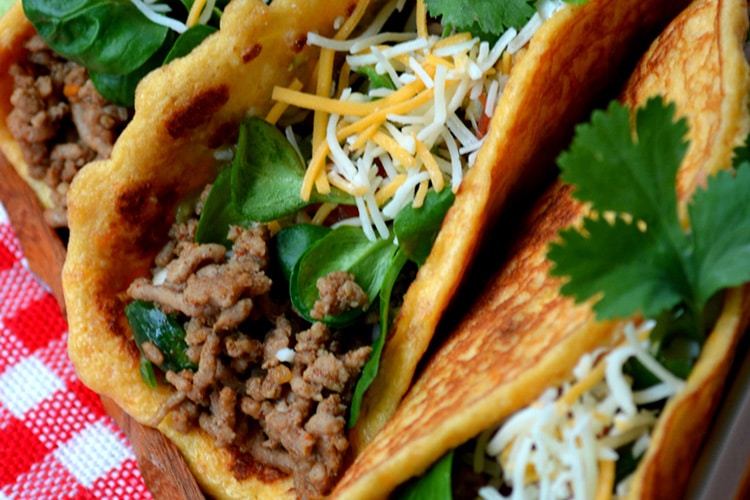 This recipe will truly wow you–pork rinds, cream cheese and eggs turn into surprisingly fluffy, flexible tortillas as if by magic, ready to stuff with your favourite fillings.
If you're looking for a great place to buy your keto friendly meat online then head over to Musclefood where you can get £5 off with our exclusive code
Desserts
The keto lifestyle doesn't mean giving up dessert–you just need to be smart about it! These recipes use a variety of sugar substitutes and other low-carb tricks to give you the sweets you crave without the carbs.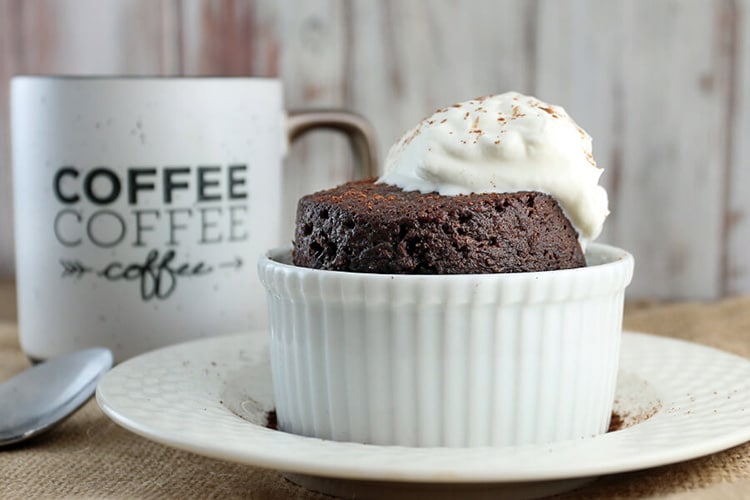 The classic mug cake, reworked to be keto-friendly! If you're craving chocolate after a long day, you can throw together this mug cake in minutes in the microwave, making it a great go-to recipe for a fast and easy dessert.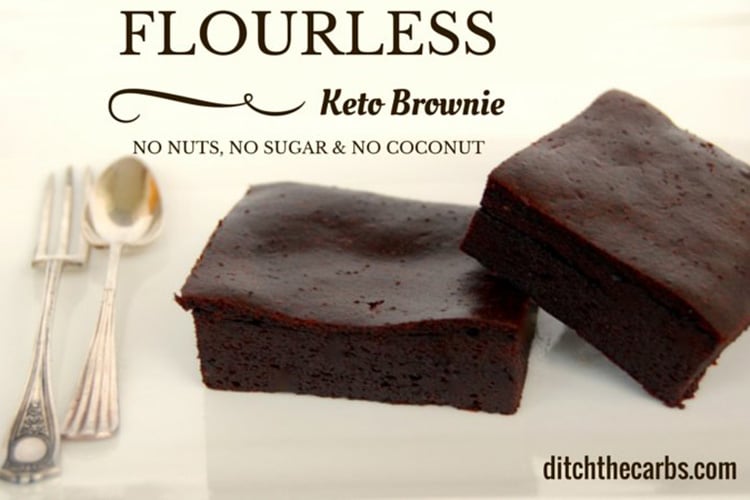 For those worried about nut allergies, this brownie recipe is the answer to your prayers. They use the same principle as cloud bread–made with cream cheese and eggs–to make a delicious, chocolatey treat that works equally well as a dessert or a mid-day snack.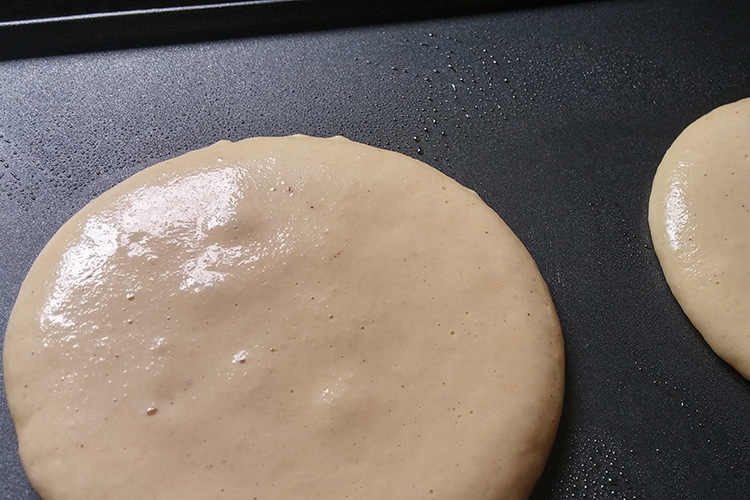 This keto-friendly batter makes either pancakes or waffles, depending on which you prefer, and makes a great basis for a dessert–just add cream and sugar-free chocolate sauce!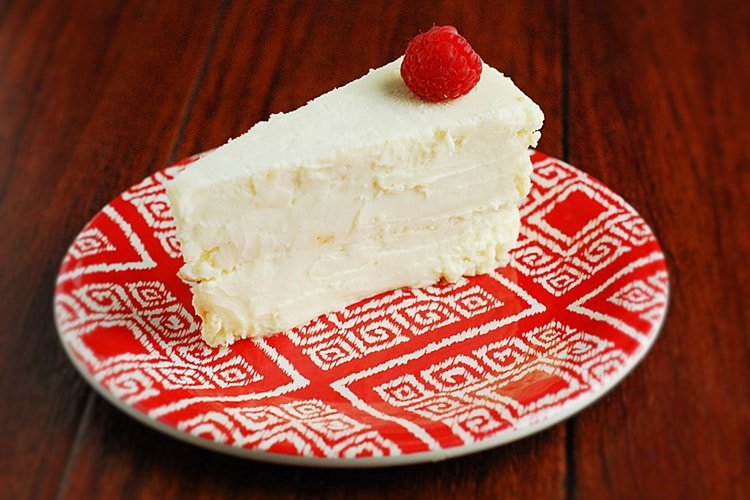 This low-sugar cheesecake makes a perfect keto-friendly dessert when you're craving something light, tangy and luscious. It's straightforward and easy to make, and tastes no different than the regular version!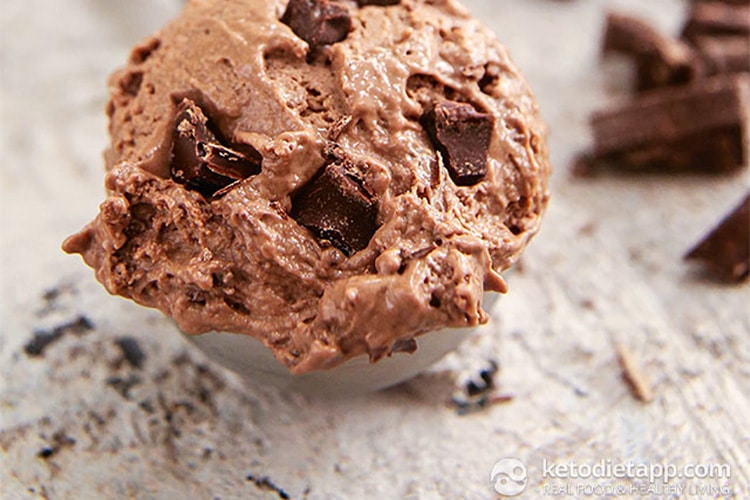 With 85% of the calories coming from fat in this ice cream and just 7g net carbs per serving, this is proof that a keto diet absolutely doesn't mean giving up all the good things in life. Obviously, the slightly higher carb content makes this a definite sometimes food, but so is regular ice cream.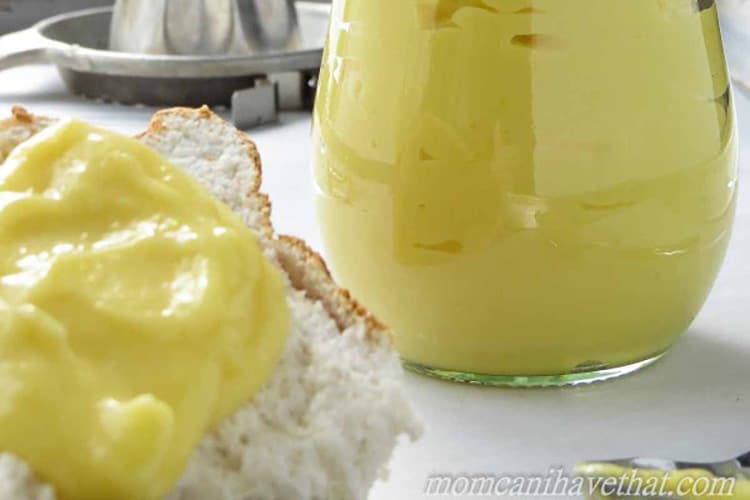 This tangy, refreshing dessert is perfect for hot evenings or as a chaser to a heavy meal, with its light flavour and negligible carbs.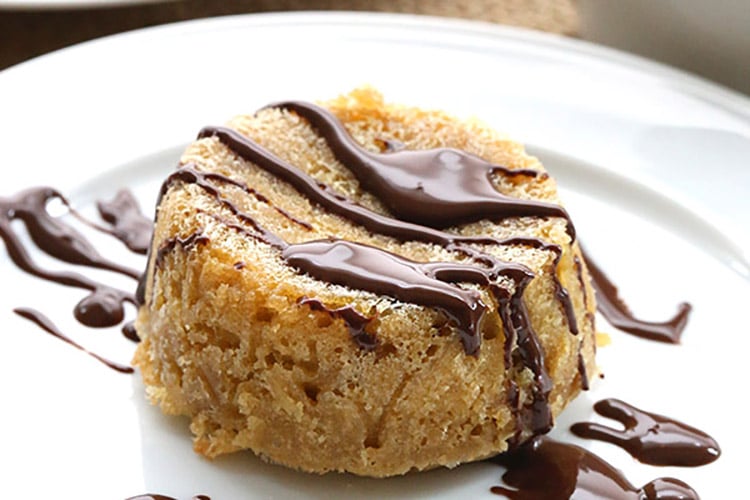 Warm, gooey peanut butter filling and a rich, dark chocolate sauce make these lava cakes a great end-of-day treat. They're not difficult to make, either, leaving their traditional cousins in the dust.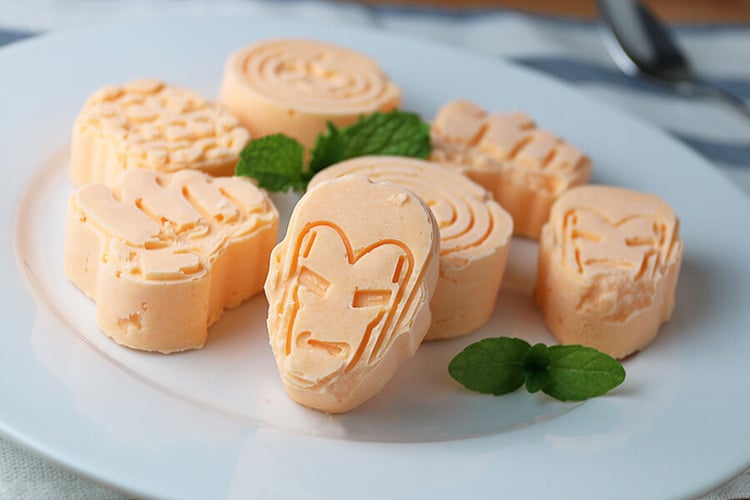 These coconut-orange treats are a tropical delight with practically no carbs at all! They're the perfect dessert for kids (and grown-up kids), since you can make them in all kinds of fun shapes.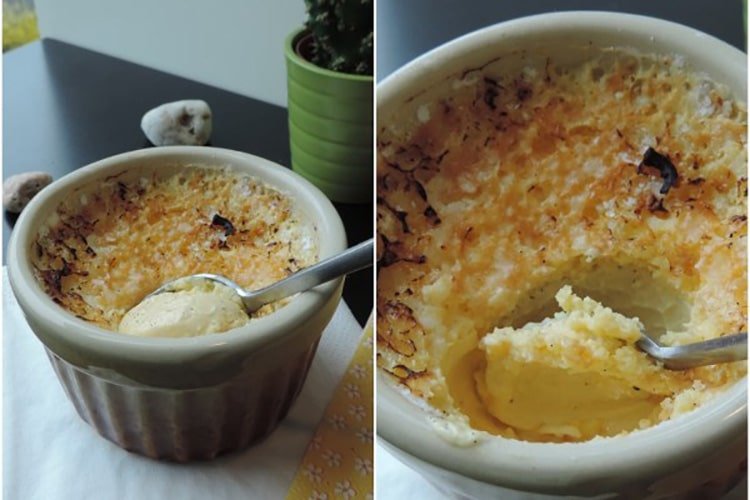 This sumptuous dish, which is naturally high-fat, gets a keto-friendly twist in this recipe, allowing for sweetness without the high level of carbs. Once you get confident with it, it's the perfect thing to have in your repertoire for special occasions.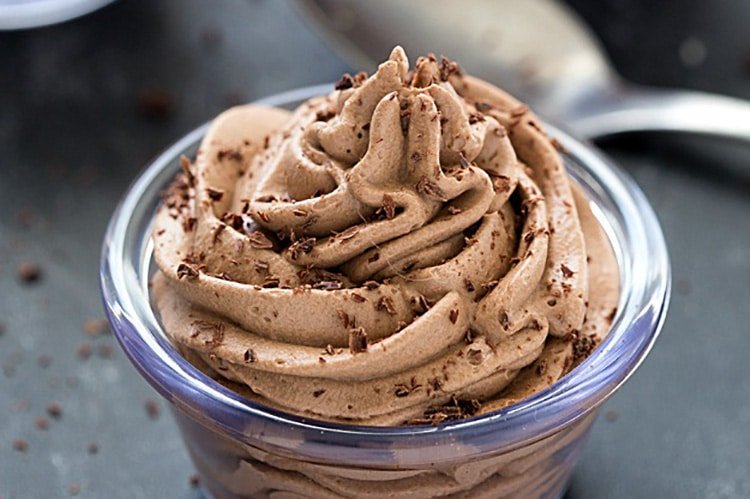 What could make these delightful little desserts low carb, high-fat, and still delicious? The secret is in that most magical of fruits–the avocado! It adds a creamy, silky texture to this easy-to-make mousse which will have everyone wondering what your secret is!
Don't forget to check MyProtein and Musclefood for great deals on your ingredients, while you're there you can use our exclsuive discount codes 🙂