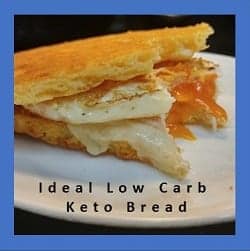 One of the important services I provide to my clients are day-to-day meal ideas and recipes, as well as information on how to thrive living low carb in a high carb world. After all, for any lifestyle to last it needs to be sustainable – enabling people to eat real food prepared in ways they enjoy.
Over the last several years, I have created dozens of satisfying low carb and ketogenic adaptations for well-loved recipes, only a few of which have found their way onto this web page. For the most part, my recipes come out of my own need following a low carb / keto lifestyle, but some ideas have been generated by my client's needs; such as the Ideal Low Carb Meal Replacement Shake that I posted yesterday.
One of the things my clients who follow a high fat moderate protein lifestyle needed was a low carb keto bread that could be eaten "as is" with melted butter, made into a grilled cheese sandwich, or an egg and sausage breakfast sandwich, and which would hold up to being loaded with meats and cheese, slathered with mayo and eaten without falling apart. Storing and freezing the bread for later use was also essential. That recipe is below, along with the nutritional info per slice and macronutrient distribution.
What makes this bread "ideal" for those following a low carb moderate protein lifestyle because (1) that 2 slices can serve as a meal replacement on it's own or with a salad, it is (2) low carb and high in healthy fat and (3) 2 slices have the equivalent protein found in an average meal on either a moderately low carb or ketogenic (keto) low carb diet. The ingredients are (4) available at any large chain supermarket and will (5) keep you from feeling hungry for a long time due to the type of protein and amount of fat it contains and (6) is quick to prepare. It (7) stores well in the fridge and (8) can be frozen for quick use later.
This bread is light and moist with a lovely, tender crust and can be topped with hot or cold meats or cheese and will hold up to lettuce, tomatoes and mayo, too. It's uses are as limitless as your imagination.
The recipe and instructions for making this bread are below as well as a few photos of serving uses.
Ingredients
½ cup (125 ml) + 2 Tbsp (50 ml) unflavored whey isolate powder
½ tsp. (2.5 ml) baking powder, sifted
½ tsp. (2.5 ml) salt
3 oz. (100 g) Parmesan cheese, finely grated
3 oz. (100 g) three cheese mixture (mozzarella, provolone, parmesan), finely grated
2 oz. (30 gm) full fat cream cheese, softened
4 Tbsp. olive oil
1 egg + 1 egg yolk
Instructions
1 – Preheat the oven to 375 °F (190 °C).
2 – In a small bowl, beat the egg and egg yolk and add the softened cream cheese.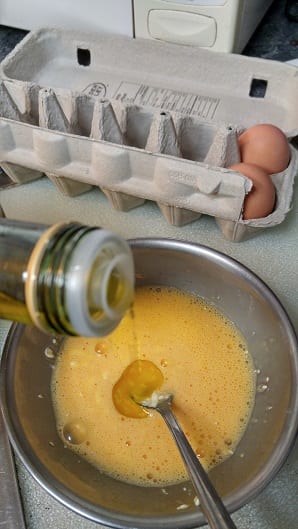 3 – Drizzle in the olive oil as if making a salad dressing (so it is suspended in the egg / cream cheese mixture).
4 – Combine the dry ingredients in a medium size mixing bowl.
NOTE: The two bowls with wet and dry ingredients can be covered and refrigerated at this point and be combined and baked within minutes the following morning, for breakfast sandwiches or lunches.
When ready to bake: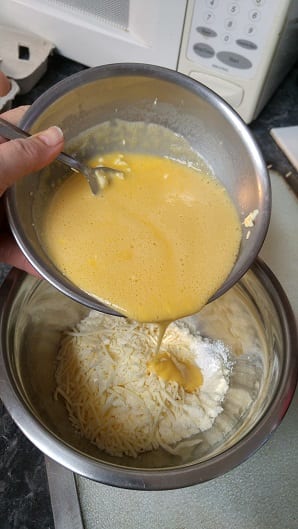 5 – Pour the liquid ingredients into the dry ones.
Note: The dough will a thick batter.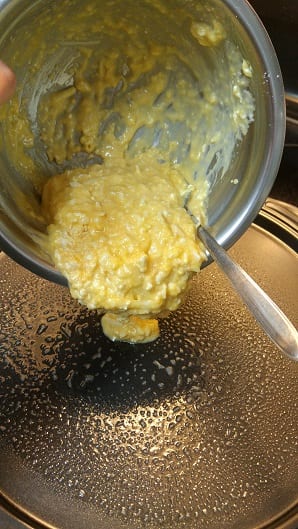 6 – Using a non-stick pizza pan sprayed with cooking spray (or a regular baking sheet lined with parchment paper), pour the dough in the middle.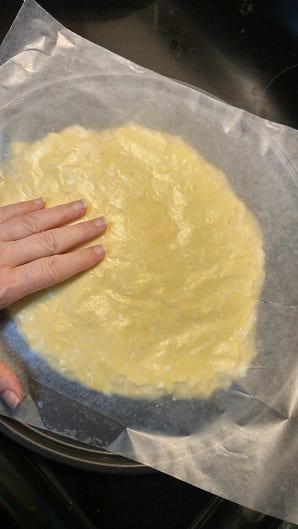 7 – Place a piece of wax paper or parchment paper on top of the dough and gently press outward with your fingers until you have a 10″ circle.
When you remove the wax (or parchment paper), scrape any batter sticking to it onto the dough.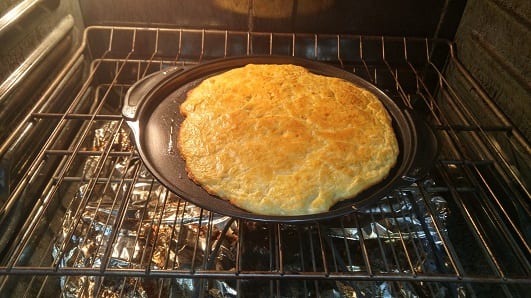 8 – Bake the crust for 9-10 minutes or until golden brown.
Be careful not to over bake it or it will be too dry and crumbly.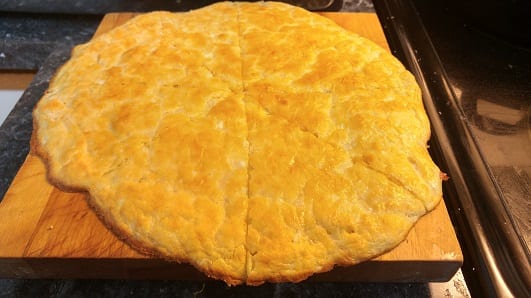 9 – Remove the crust from the oven and let cool a few minutes before transferring to a board and cutting.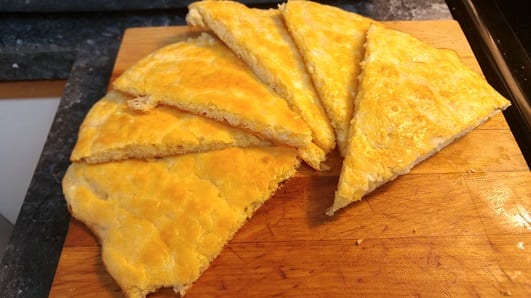 10 – Cut the bread in eight wedges.
Storage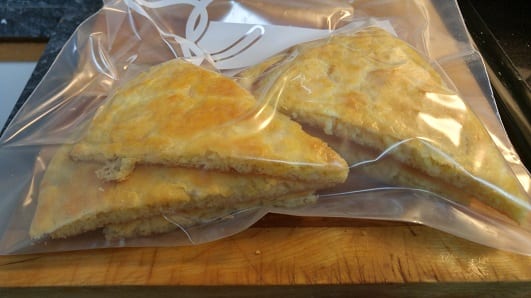 The individual slices of bread can be placed in a freezer-weight zipper storage bag and placed in the fridge for the following day or frozen for later use.
Some Serving Ideas
Bread and Butter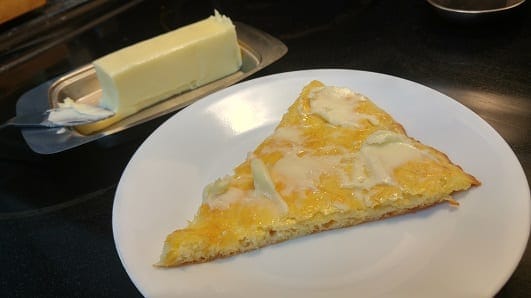 This bread is delicious hot from the oven, slathered with butter.
Mixing up the wet and dry ingredients the night before, and storing the bowls in the refrigerator overnight makes it possible to prepare hot bread in the morning in less than 15 minutes, including clean up.
Croque Monsieur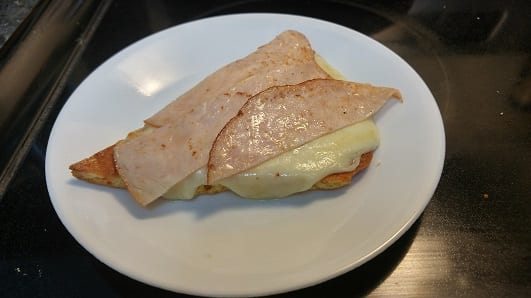 A "croque monsieur" is a baked or fried ham and cheese sandwich. My version is made with smoked chicken.
I photographed this one before topping it with the second slice of bread, so you can see how well it holds up to grilling.
Egg and Sausage Sandwich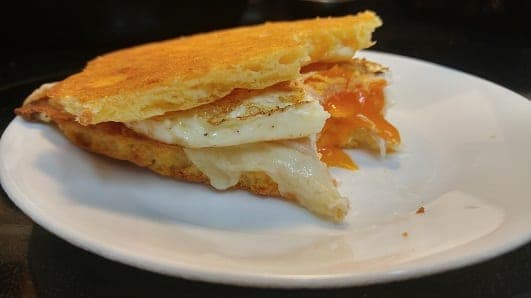 Topped with cheese, smoked ham (or smoked chicken) and a fresh easy-over egg makes this the most amazingly delicious egg and sausage sandwich imaginable!
Grilled Cheese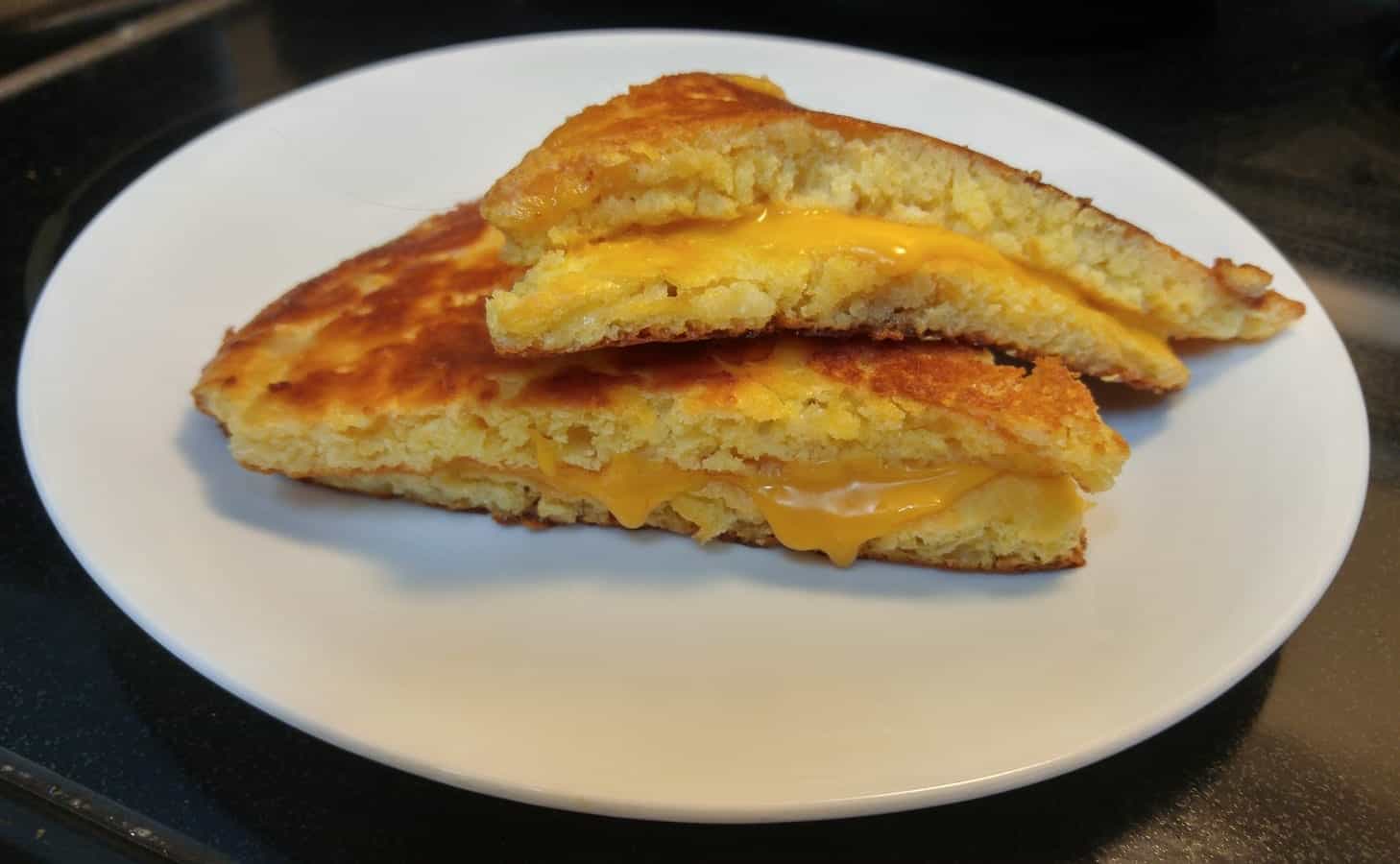 Who doesn't love grilled cheese? This one has all the taste and 'mouth-feel' of a high carb version, without the carbs!
Nutrition Facts - per 1 slice Ideal Low Carb Keto Bread (each slice 1/8 of the bread)

Fat 16 gm
Carbohydrate 2 gm
Protein 11 gm
Energy 200 kcal