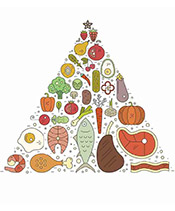 There are many experts in the low-carb high-fat (LCHF) way of eating.
However, there are also many beginners who are looking for basic information on low-carb diets, guidance and resources.
So, here is an A to Z guide that brings some of the best online resources together.
All the information you need to be successful is contained within.
From authors to doctors, dietitians, meal plans, studies and even pizza recipes; this is an introduction to all things LCHF.
Authors
Some accomplished authors are writing about the benefits of the low carb diet.
Gary Taubes
Gary Taubes is one of the biggest names in the whole nutrition world.
He has published several books that question conventional diets and look at the benefits of low-carb:
Good Calories, Bad Calories: Challenging the Conventional Wisdom on Diet, Weight Control, and Disease (2007)
Why We Get Fat: And What to Do About It (2010)
Gary has also won several awards for his science-based journalism.
Jimmy Moore
Jimmy Moore is a blogger and author with several nutrition books to his name.
Through adopting a low-carb diet, Jimmy has experienced great improvements in overall health and writes about his experiences in an easy-to-understand way.
His books include:
Livin' La Vida Low-Carb: My Journey From Flabby Fat to Sensationally Skinny in One Year (2005)
21 Life Lessons From Livin' La Vida Low-Carb: How the Healthy Low-Carb Lifestyle Changed Everything I thought I Knew (2009)
Cholesterol Clarity: What the HDL is Wrong With My Numbers? (2013)
Keto Clarity: Your Definite Guide to the Benefits of a Low-Carb, High-Fat Diet (2014)
The Ketogenic Cookbook: Nutritious Low-Carb, High-Fat Paleo Meals to Heal Your Body (2015)
The Complete Guide to Fasting with Dr. Jason Fung (2016)
Karen Thomson
Karen is a wellness advocate, food addiction expert and author.
As Karen had past troubles giving up sugar, she has great knowledge and experience to help others beat their own sugar cravings. As well as this, she is also a huge supporter of LCHF diets.
You can read her views on nutrition either on her website or in her first book:
8 Weeks to Freedom From Sugar and Carb Addiction (2016)
Nina Teicholz
Nina Teicholz is also one of the biggest names in the nutrition world.
An investigative journalist famous for her award-winning book of 2014, which is one of the most interesting nutrition books around.
The Big Fat Surprise: Why Butter, Meat and Cheese Belong in a Healthy Diet
Her book is incredibly well-research and shows the many wrongs of conventional dietary advice in meticulous fashion.
Sammy Pepys
With the recent release of his first book, Sammy Pepys is someone to look out for.
A huge advocate for more healthy fats in our diet, his book is simply titled 'Fat is our Friend'.
Sammy believes that — at present — Western society won't be able to cure chronic illnesses such as obesity and diabetes.
In short, he believes the solution is to embrace real food and healthy fat once again – like our ancestors once did.
Key Point: If you're looking for a place to start, have a read of some of these great books.
Beef
While conventional advice dictates beef (and red meat as a whole) is bad for us, it's actually one of the most nutrient-dense foods.
As a result, it's one of the most important LCHF foods.
Despite the media's insistence that red meat is "artery-clogging" and carcinogenic, these claims are based on epidemiological studies. In other words; correlation.
As an illustration of what this means, let's take someone who ticks a food questionnaire saying they eat red meat twice per week.
According to many studies, whether that is a McDonalds Big Mac complete with fries and cola, or a piece of home-cooked steak with fresh vegetables doesn't matter. Despite this, these foods are clearly not one and the same.
However, something you do need to be aware of when you buy beef is the source. Quality, grass-fed beef is better for you than factory-farmed beef from cows fed on who knows what.
Specifically, grass-fed beef has a better nutrient profile, and a much better balance of omega 3 to omega 6 (1, 2).
However, all beef is nutrient-dense so buy what you can afford rather than striving for perfection.
Key Point: Despite being demonized by the mainstream media, beef is a very healthy nutrient-dense food.
Cholesterol
Many people feel wary of LCHF diets due to the inherent belief that diets high in fat raise "bad cholesterol".
First, this so-called "bad cholesterol" (LDL) is actually a lipoprotein which carries cholesterol. It also has the function of delivering essential nutrients to all the cells in our body.
In fact, this may be the reason why low cholesterol is associated with mortality (3, 4, 5).
The truth is that cardiovascular problems are multi-factorial in their causation, not caused by one specific food.
However, if we are looking for a dietary cause of cardiovascular disease, we should probably look at excessive carbohydrate intake – especially from sugars.
Here's why:
LCHF diets result in a significant fall in triglyceride levels, a major risk factor for cardiovascular disease (9).
In a meta-analysis featuring over 68,000 participants in dietary intervention programs, LCHF diets were the clear winner. Low-carb interventions resulted in significantly greater weight loss than low-fat diets and also improved cardiovascular risk factors (10).
This is not settled science, and there are multiple theories. However, the triglycerides to HDL ratio does seem to be the most significant marker for CVD.
Key Point: Much of the latest science points towards excessive blood glucose and insulin levels being a bigger culprit than cholesterol ever was.
Diet Doctor and Ditch the Carbs
In short, Diet Doctor and Ditch the Carbs are two of the most popular LCHF websites in the world and for very good reason.
They are also run by people with great knowledge of low-carb diets, who are both making a huge positive difference to people's lives.
While the two websites both cover pretty much everything, Diet Doctor is a little more focused on science, weight loss, and diabetes reversal.
Diet Doctor also provides a premium membership site featuring tons of extra content from LCHF experts.
In contrast, Ditch the Carbs is very much about delicious LCHF recipes and improving your family's health. Especially, the Fat Head Pizza recipe is one of the best things I've ever tasted – it's a low carb pizza, and it's healthy too!
You can find Diet Doctor at:
Website: dietdoctor.com Twitter: twitter.com/DietDoctor1
Ditch the Carbs:
Key Point Diet Doctor and Ditch the Carbs both provide excellent information on a wide range of topics. You can also find many delicious low carb foods!
Doctors and Dietitians
There are a wealth of great, progressive doctors and dietitians who support the LCHF diet.
Not only do they provide great information, but their Twitter accounts will also likely improve your health.
Dr. David Unwin
Dr. David Unwin is a big proponent of LCHF diets and even won a national health service award for being 'Innovator of the Year'.
David does especially important work with his diabetic patients, and in many cases has reversed their condition.
He was also previously covered on Nutrition Advance as a 'nutrition hero'.
Twitter: twitter.com/lowcarbGP
Dr. Deborah Gordon
Dr Deborah is a great doctor who has a primary focus on health through real food.
She has an impressive website which promotes the importance of nutrient-dense whole foods, and covers lots of medical conditions.
Dr. Eric Sodicoff
Dr Eric Sodicoff is certified in internal medicine and obesity.
He feels that modern foods are making us sick, and also believes that we should dump digestible carbohydrates.
Eric has an entertaining and informative Twitter account, which can be found at:
Twitter: twitter.com/sodicoff123
Dr. Jason Fung
Dr. Jason Fung is an expert in intermittent fasting, weight management, and diabetes reversal.
He is also an author with his books 'The Obesity Code' and 'The Complete Guide to Fasting' both being a major success.
Dr. Jeffry Gerber
Dr. Jeffry Gerber, otherwise known as 'Denver's Diet Doctor' certainly provides a lot of worthwhile information.
In particular, there is a focus on cardiovascular disease research and informative prevention strategies.
Dr. Joanne McCormack
Dr. Joanne McCormack is also an award winning doctor from the UK.
She's a real-food and LCHF enthusiast who advocates a whole lot less refined carbohydrate and much more healthy fat.
Dr. Michael Eades
Dr. Michael Eades is one of the most well-known low carb doctors around. He has also authored or co-authored a collection of over 10 great books focused on the low carb diet.
He writes in great detail on many developing issues in the nutrition world on his website.
Dr. Kevin Lee
Dr. Kevin Lee is an endocrinologist with a focus on diabetes and obesity.
He frequently posts lots of informative content as well as some delicious food photography.
Dr. Richard Feinman
Dr. Richard Feinman is a biochemistry professor and founder of the Nutrition and Metabolism Society.
He has also released many pioneering nutrition studies regarding the Atkins diet, carbohydrate restriction, diabetes and the application of thermodynamics to nutrition.
Dr. Shawn Baker
Dr. Shawn Baker's twitter profile is great to follow for no-nonsense thoughts on nutrition, exercise, and some great looking meal inspirations.
For example: delicious 10-egg omelets and giant slabs of steak.
As well as being an orthopedic surgeon, Dr. Baker is also a record-holding Masters athlete.
Dr. Ted Naiman
Dr. Ted Naiman is a Family Medicine physician with a focus on lifestyle intervention as treatment for metabolic diseases.
A huge proponent of LCHF diets, he also has impressive artistic talent and provides lots of clear nutrition graphics.
He's great at making the complex simple and a great place to start for LCHF beginners.
Dr. Trudi Deakin
Dr. Trudi Deakin is a registered dietitian, founder and Chief Executive of the UK charity, X-PERT Health that develops and implements award-winning self-management education for the prevention and treatment of obesity, diabetes and heart disease.
Franziska Spritzler, RD
Franziska Spritzler is an LCHF supportive registered dietitian. She has great knowledge about low carb diets as well as overall nutrition.
She provides lots of useful information and believes in a carb-restricted, whole-foods approach to optimal health.
Franziska is also an author and has a book titled 'The Low Carb Dietitian's Guide to Health & Beauty'.
Lily Nichols, RD
Lily Nichols is a real food-focused registered dietitian, speaker and researcher with expertise in food sensitivities, prenatal nutrition, and gestational diabetes.
Her book (and online course) is titled Real Food for Gestational Diabetes, and it's the first to advocate for a nutrient-dense, lower carb diet for managing gestational diabetes.
This book has helped thousands of women to have healthy babies, and usually without the need for blood sugar-lowering medication.
Her blog explores a range of topics regarding real food, digestive health, mindful eating, pregnancy, and gestational diabetes.
Key Point: To improve your overall health and nutrition knowledge, following some of these people will be a great first step.
Eggs
Loved by many but still feared by some, eggs are a divisive food in nutrition.
However, there is a good reason why eggs are one of the most popular LCHF foods. Full of healthy fat, protein and nutrients, they are a great food for a low-carb diet.
In fact, they are great for any diet.
Extremely nutrient-dense, they contain many vital vitamins and minerals that large numbers of people are deficient in (11, 12, 13).
As a result of their cholesterol and saturated fat content, a significant amount of people avoid them. But the truth is that eggs improve cardiovascular risk factors by increasing HDL, decreasing triglycerides and improving the overall cholesterol profile (14, 15, 16, 17).
Overall, eggs are a near-perfect food nutritionally and they taste great too.
Key Point: Eggs are one of the most nutritious low carb foods around and they are extremely high in essential vitamins and minerals.
Food Recipe Blogs
While Diet Doctor and Ditch the Carbs are definitely deserving of being in this section – you can find them under 'D'.
There are thousands of food bloggers out there, many of whom produce delicious low carb recipes.
But these are some of my favorite websites I find myself coming back to again and again.
Carrie Brown
Carrie Brown's self-titled website contains a wealth of delicious LCHF recipes.
All recipes are clearly laid out and coupled with stunning photography. If you're looking for inspiration for what to do with your low carb foods, here is a great place to start.
Carrie also has a great 'smarter' range of cookbooks.
All are available through her website below.
Keto Diet App
Keto Diet App is an amazing site that has some really unique (and tasty!) low carb recipes.
The website owner, Martina, is also the developer of the 'keto diet app' and the author of two books:
The KetoDiet Cookbook
Sweet & Savory Fat Bombs
Definitely one of the best LCHF recipe sites out there!
Low Carb Yum
Another of my favorite low carb recipe sites is Low Carb Yum.
There are so many delicious looking recipes on this site, but sadly not enough time to make them all.
All low carb recipes on the site are both sugar-free and gluten-free.
My Copenhagen Kitchen
My Copenhagen Kitchen provides lots of LCHF recipes, including many traditional dishes but without gluten or sugar.
The owner of the site, Jane Faerber, has four great cookbooks too.
Although they are not yet available in English, they are worth checking out if you can speak Danish!
Website: www.mycopenhagenkitchen.com Twitter: twitter.com/MyCPHkitchen
Wholesome Yum
First, the name of this website is very accurate. It provides lots of yummy-looking recipes, some of which are very unique.
The author of the blog, Maya, creates recipes that are low carb and gluten-free, all containing less than 10 ingredients.
In other words; healthy, quick and delicious!
Key Point: While there are thousands of LCHF recipes sites out there, these are five of the best – you won't be disappointed with any recipe!
Grains
"Heart-healthy whole grains" – ever heard that before?
We often hear how healthy grains are, and about how they should form the base of our diet. Much of this health advice relates to the fiber and nutrient-density of whole grains.
But, in truth, there are many foods which contain so many more nutrients without all the digestible carbohydrate.
For example:
As you can see, the fruit and vegetable sources provide a higher amount of fiber and a minimal amount of digestible carbs.
It's a myth that grains are necessary for fiber.
Once in the body, all digestible carbs have a similar path and convert to glucose, which raises blood sugar in a dose-dependent manner (18, 19, 20).
Grains and Inflammation
Grains can also cause inflammation. In particular, daily wheat consumption can lead to chronic inflammation and autoimmune diseases (21).
Another key point is the proteins in wheat; you've heard of gluten, but there are many more wheat proteins that can make you sick.
Zonulin is one to point out; high levels of this protein are often present in autoimmune and inflammatory diseases. Additionally, another protein named gliadin can initiate intestinal permeability (otherwise known as "leaky gut syndrome") and weaken immunity (22).
Switching to another cereal grain, you probably have fond memories of eating oatmeal as a child. While I don't think oats are as bad as wheat, they are still very high in digestible carbohydrate.
As well as this, a recent study did an investigation into the merits of an oatmeal-based breakfast versus a morning egg.
The results showed that compared to eggs, the oatmeal breakfast increased low-grade inflammation (23).
Lastly, grains also contain compounds that block mineral absorption. As a result, the typical diet of grains three times per day increase the possibility of nutrient deficiencies (24, 25).
It's true that there are many studies showing the benefits of eating more whole-grains.
However, the question is this: replacing sugar, white bread and pasta with wholegrains may well improve health. But does replacing healthy fat, fruit and vegetables—or even legumes—with wholegrains do the same? I'm not convinced.
Key Point: Far from being "an essential food group", the nutrients in grains are easily attainable elsewhere. In addition, grains have links to inflammatory disease and autoimmune disorders.
High Fat (LCHF)
The 'HF' in LCHF stands for high fat, and there are plenty of healthy fats available.
Here is a list of some of the best whole food and isolated fat sources, all of which are natural and very nutritious:
Avocado
Avocado Oil
Beef
Butter
Cheese
Chicken Skin
Cocoa
Coconut
Coconut Oil
Cream
Dark Chocolate
Duck fat
Eggs
Lard
Mackerel
Nuts
Nut Butters
Olives
Olive Oil
Pork
Salmon
Sardines
Seeds
Tallow
Trout
Unrefined Nut Oils
Whole Dairy (skip the low-fat stuff!)
Did I forget something? Probably… but you get the idea; healthy fat is good for you.
See here for a complete low carb shopping list.
LCHF diets are also backed by science; many studies show that a low-carb diet high in healthy fats can lead to weight loss, and reduced risk of disease (26, 27, 28).
Key Point: Naturally occurring fat is very healthy, but skip the stuff made in factories – industrial vegetable oils are very bad for you.
Induction "Flu"
Unfortunately, many people experience difficulties when they first start their LCHF diet and give up.
While understandable, this is entirely avoidable with a little knowledge.
The first thing to point out is that the famed "induction flu" (otherwise known as 'keto flu') is very real. Not in the sense that it's really flu, but just in that many people experience a number of symptoms when first adopting a low carb diet.
These may include:
Brain Fog
Dizziness
Headaches
Heart Palpitations
Irritability
Nausea
Sugar Cravings
These symptoms can either be mild or extreme, depending on your own biology and previous diet.
For example, switching from a carbohydrate-dominated diet to a low-carb diet is very difficult. This is due to the body actively seeking the glucose it is accustomed to.
As your body gets used to the LCHF diet and burning more fat, these symptoms will subside.
Importance of Electrolytes
It's especially important to make sure you get enough electrolytes when you first adopt an LCHF diet.
Generally, high amounts of carbohydrate encourage the body to store water. So, upon cutting carbs the body starts to flush a lot of this water out of the body (29).
Unfortunately, a side effect of this is that the body also loses large stores of electrolytes (30).
This can result in a number of strange (and possibly scary) symptoms such as muscle cramping and light-headedness.
So, for this reason, it's important to eat enough magnesium, potassium, and sodium based foods.
You can find a list of low-carb magnesium foods here and for potassium see here.
For sodium; just liberally salt your meals, maybe drink bone broth, and eat some salted foods.
Key Point: Mineral deficiencies can frequently occur when you start an LCHF diet, but they are easily avoidable with a bit of care.
Journalism
Different to almost every other LCHF website out there, Marika Sboros runs a journalistic-style page that covers low-carb news and events.
It's a great site, which shouldn't be a surprise since Marika is an accomplished journalist.
Also, while this article lists a few doctors and healthcare professionals, if you want a really in-depth directory then Marika's site is the place to go.
In particular, she has a 'low carb map of the world' where you can search for an LCHF-supportive professional, no matter where you live.
So, to find out what's going on in the LCHF world, check out Food Med:
Ketogenic Diet Resources
What is the difference between an LCHF diet and a ketogenic diet? All in all, they are pretty similar; they both emphasize low carb foods and limit the same things.
However, ketogenic diets (otherwise known as "keto") are much stricter and generally keep carb consumption below a maximum of 50g per day.
For this reason, many people with diabetes report success using ketogenic diets to help manage their condition.
Additionally, here are some great keto-focused websites.
Ketogenic Diet Resource
Ketogenic Diet Resource provides just about everything you could wish to know about ketogenic diets.
Food, low carb recipes, guides, the science, medical conditions, and a whole lot more. In short; there's an extremely impressive amount of information just waiting to be read.
Website: http://www.ketogenic-diet-resource.com/
WickedStuffed
WickedStuffed is a site focused on recipes for the ketogenic diet coupled with some practical tips for success.
All the recipes on this site are therefore extremely low carb, and every single one looks amazing.
The 'keto chef', Amanda C. Hughes, is the author of three ketogenic books: Keto Life, Keto All the Way, and The Wicked Good Ketogenic Cookbook.
Keto Gains
Keto Gains is a great site for the nutrition side of the ketogenic diet, but it also has a strong focus on body recomposition, weight loss and gaining muscle.
The site is incredibly easy to use and has a wide variety of informative articles.
Ruled Me
Recipes, books, tips, articles and a whole lot of delicious LCHF foods.
Additionally, helpful guides, plans, and even a forum appear on this site dedicated to all things keto.
Website: www.ruledme.com Twitter: twitter.com/RuledMe
Key Point: In the event that you're interested in a ketogenic diet, these websites all provide great direction.
Low Carb Diet
The first thing to remember is that an LCHF diet is not a 'no carb diet'.
In general, a low carb diet is a way of eating that emphasizes nutrient-dense carbohydrates (nuts, veggies, fruits) and restricts those high in digestible carbohydrate.
When you think deeply about it, it's not such a radical idea; humans survived without soda, sandwiches, rice, and pasta for millions of years.
With this in mind, the amount of carbohydrate most people eat these days is doing an immeasurable amount of damage.
Upon hitting the blood stream, all digestible carbohydrate becomes glucose just the same as sugar does. Following this, blood sugar and insulin levels rise (31, 32).
Significantly, higher blood sugar and insulin levels result in greater risk of cardiovascular disease, cancer, Alzheimer's, diabetes, obesity, and more (33, 34, 35).
So, to maintain stable blood sugar levels and benefit from the biological effects of a low carb diet, it's important to avoid foods high in digestible carbs.
For example:
Bread
Candy/Sweets
Cakes
Fruit Juice
High Sugar Fruits
Jam/jelly
Pasta
Pastries
Potatoes
Rice
Soda
Sugary Drinks
Sugary Food
Ideally, the daily amount of carbohydrate should be under 100g – but the lower, the better.
There are lots of delicious low carb foods that are full of nutrients, healthy fat and a wealth of phytonutrients.
Key Point: Low carb diets emphasize the most nutrient-dense forms of carbohydrate and restrict the amount of digestible carbs.
Meal Plans
If you aren't entirely sure on how to translate LCHF foods into actual meals, then worry no more.
Here are some great guides;
Low Carb Meal Plans by Diet Doctor
How to Start a Low Carb Diet by Ditch the Carbs
Key Point: Making low-carb meals might be difficult at first, but it's very simple. These sites provide sample meal plans for every day of the week.
Nutritionists
While I'm sure there are many great low-carb supportive nutritionists, here are some who are extremely knowledgeable.
Amy Berger
Amy is a low-carb/paleo supportive nutritionist who really knows her stuff.
She is also a published author, with her book 'The Alzheimer's Antidote' tackling the metabolic theory of Alzheimer's disease.
Amy's blog also has dozens of helpful articles, with a big focus on weight loss, insulin, and the metabolic theory of disease.
Denise Minger
While she focuses on a range of different dietary systems, Denise has written extensively about low carb diets.
She also has a great book on nutrition entitled 'Death by Food Pyramid', which explores nutrition politics and poor public health policies.
In particular, her rebuke of the China Diet is well worth a read.
Elisha Danine
A clinical nutritionist from Australia, Elisha also promotes LCHF and she's very knowledgable on the latest nutrition science.
Her main areas of interest include insulin resistance, obesity, and the gut-brain axis.
She also shares lots of great information on her Twitter account.
Elizabeth Mountford
Elizabeth is another big believer in the power of real food.
As a nutritional medicine practitioner, she helps many people to recover their health.
She also has a particular interest in the role of the gut, and how the microbiome affects our overall health.
Organizations
Here are some nutrition organizations and websites that promote the benefits of LCHF diets.
Nutrition For Life
Founded by Belinda and Gary Fettke, Nutrition For Life is a health organization consisting of dietitians, nutrition consultants, and diabetes educators.
Their approach is based on a real food way of eating that emphasizes lots of LCHF foods.
In addition to helping individuals with their health problems, Nutrition For Life also offers corporate and community education programs.
Website: www.nutritionforlife.healthcare
Public Health Collaboration
The Public Health Collaboration (PHC) is a non-profit organization dedicated to informing healthy public policy decisions.
Their work is very much based on advocating real food rather than ultra-processed products. In short; the same things LCHF diets promote.
Many high-profile doctors serve on the advisory board of the PHC.
Real Meal Revolution
Real Meal Revolution is a membership/subscription-based website dedicated to all things low-carb.
For those who need help adapting to a healthy LCHF diet, Real Meal Revolution provides a lot of resources.
Membership includes either face-to-face or online options.
Pizza (LCHF Style)
Who doesn't love pizza?
The irresistible combination of tomato, cheese, and toppings is what makes it so special, though.
Therefore, it's easily possible to create some delicious low-carb pizzas – and there any many great recipes.
Both cheese and tomatoes have many health benefits, and when we cut out the dough it also makes the pizza much healthier.
For some tasty examples, check out some of these LCHF pizza recipes.
Just click any of the titles to see the recipe.
This is an extremely cheesy and rich pizza that is also very delicious.
Unlike a conventional flour-based pizza, it would be very difficult to finish one of these off by yourself.
The base is also made of almond flour, cream cheese and mozzarella, which gives it a sturdy texture and allows you to eat it by the hand with ease.
This pizza is based around cheese, eggs, and cauliflower.
It's also even suitable for vegetarians due to the lack of meat.
Not to mention this pizza is also very healthy; the toppings include olives, onions, bell peppers and tasty herbs.
Another pizza, and yet another different style of base.
In fact, this one is made of eggs, whey protein, coconut flour and cheese, among others.
In view of how good it looks, this base has obviously been fine-tuned for perfection.
With amazing toppings like sausage, pepperoni slices, onions and green peppers, this LCHF pizza is definitely one to try.
Unlike the other pizzas, this one is quite a lot different.
For one thing, the base isn't made from some special mixture; it is just turkey meat mixed with mozzarella.
On top of this comes tomato sauce, more cheese, bacon, olives and pepperoni.
In other words; when it comes to the taste test, this pizza cannot possibly fail.
Key Point: LCHF diets are not restrictive. It's just about learning how not to use sugars and grains. Also, low-carb pizzas taste a lot better than conventional pizza.
Quick Meals
It's a popular misconception that LCHF recipes are particularly difficult or expensive to prepare. In truth, there are plenty of cheap, highly nutritious meals that take minimal preparation time.
For example, here's a dinner for every day of the week:
Cheese and vegetable omelet: a combination of cheese coupled with onions and bell peppers makes for a tasty, simple omelet.
Steamed Mackerel and Vegetables: Put a fillet of herb-infused mackerel in a steamer with veggies of choice.
Bacon and Eggs: Fry some bacon and eggs in a healthy cooking fat together with mushrooms and a tomato. Of course, bacon and eggs also make a great breakfast too.
Chicken Drumsticks: Add a little butter to chicken drumsticks, then put them in the oven with some mushrooms, garlic, onions, and broccoli.
Beefburgers: first, take some ground beef and mix it with an egg, rosemary, oregano, salt, pepper, and a little cheese. Bake in the oven and serve with a leafy green salad in an olive oil and balsamic vinegar dressing.
Crustless Quiche: combine cream, eggs, cheese, and your ingredients of choice to make a crustless quiche. For instance, here's one I made with bacon, cheese, green onion, and garlic.
Sashimi: Admittedly, this one isn't so cheap. But if you don't feel like cooking one night, sashimi is an incredibly tasty and healthy choice. Combine it with avocados and you have some delicious LCHF foods full of healthy fat, vitamins, and minerals.
Researchers
Some LCHF supportive researchers are doing great work and you can learn a lot from following them.
While these people are all focused on very different areas, they all have one thing in common; exceptional research.
Dr. Bill Lagakos
Dr. Bill Lagakos undertakes research regarding circadian rhythms, energy balance, inflammation, and insulin resistance, among other areas.
Some of the information he provides is really useful, and his thoughts on circadian rhythms and meal timing are particularly interesting.
He also has a book entitled 'The poor, misunderstood calorie'.
Dr. Maryanne Demasi
Dr. Maryanne Demasi is a very knowledgeable research scientist.
You may also have seen her on the Catalyst program for ABC TV in Australia, on which she investigated many cutting-edge health issues.
Maryanne is always up to date with the latest nutrition and health information and shares a lot of great content on her Twitter account.
Twitter: twitter.com/MaryanneDemasi
Dr. Zoe Harcombe
Dr. Zoe Harcombe is a nutrition researcher, author, and public speaker.
She also has several published books, including the best-selling book 'The Harcombe Diet.'
Zoe is first and foremost a real food advocate but notes that when people choose food for the nutrients it provides, they will naturally tend towards LCHF.
George Henderson
George Henderson is a researcher at the Auckland University of Technology, New Zealand.
As well as that, he is also a blogger who focuses on paleo and LCHF topics.
His website is a great place to go for lots of insight into the latest nutritional studies and general musings on nutrition.
Ivor Cummins
Ivor Cummins is an engineer-turned-nutrition researcher.
After experiencing some health problems that his doctors couldn't help with, Ivor decided to find the cure himself and set off on his research journey.
He's now one of the most respected figures in the low-carb community and produces tons of great content on his website.
His research on the true risk factors for cardiovascular disease is particularly interesting.
Marty Kendall
Marty Kendall is also an engineer tackling nutrition research – and he does so brilliantly on his website: Optimising Nutrition.
The depth of research behind each article is astonishing, so there's always something to learn – no matter how experienced in nutrition you are.
I also very much agree with the goal of the website; maximizing nutrition through real food.
Website: optimisingnutrition.com Twitter: twitter.com/martykendall2
Professor Grant Schofield
Professor Grant Schofield is a professor of public health at the Auckland University of Technology, New Zealand.
Additionally, he is director of the Human Potential Center and an author of 'What the Fat?', a popular book that offers a complete guide to LCHF.
Professor Grant is considered an expert in low carb sports performance and also has a popular blog which offers lots of helpful articles.
Professor Tim Noakes
Professor Tim Noakes is an Emeritus Professor at the University of Cape Town.
As an A1-listed scientist, he has also published more than 750 scientific books and articles.
Known as one of the pioneers of LCHF, Professor Noakes is among the biggest advocates for the low-carb diet.
He is also the founder of The Noakes Foundation; a non-profit corporation aiming to advance medical science's understanding of LCHF.
Key Point: Whether you are new to low-carb or experienced, you can learn a lot from these great researchers.
Snacks
As a rule, it's best to minimize snacking and stick to eating at meal times.
However, for those new to LCHF, it's often difficult to control hunger at first. This is particularly the case when moving from a diet high in sugar.
In this situation, it's best to focus on snacks based around healthy fats to improve satiety.
If you usually have a can of soda and a donut, try replacing it with a cup of coffee and a few pieces of dark chocolate.
For example:
Avocado
Berries and Cream
Coconut Chips (no sugar)
Cheese
Coffee (with cream)
Dark Chocolate (ideally 85% +)
Hard-boiled Egg
Nuts (all varieties)
Olives
For a great illustrated guide, here are 10 of the best low carb snacks by Ditch the Carbs:
Key Point: Low carb snacks can be helpful when first adapting to an LCHF diet. They are also great for a movie.
If you don't have Twitter, then you are missing out on a lot of great information.
For some interesting LCHF-related information, here are some great accounts to follow:
Andrew Scarborough
What do most people do upon hearing a devastating cancer diagnosis? Listen to the doctor, take some drugs, and hope for the best.
However, upon hearing about his "incurable" brain cancer at the age of 27, Andrew Scarborough took his health into his own hands.
Andrew stopped his medical treatment upon being told it "probably won't be effective", and started a carefully researched ketogenic nutritional protocol.
To sum up, this involved extreme carbohydrate restriction, a moderate amount of protein and for fat to be the predominant source of energy.
Thankfully, there are now no signs of his "incurable" condition. It's a fascinating and inspiring story, but one we can never truly understand without being in that unimaginable situation.
Reading through his website shows incredible bravery and, as Andrew has made his experience publicly available, it deserves to be seen.
Website:
Dr. Ann Childers
Dr. Ann Childers is a psychiatrist and also a passionate supporter of the low carb diet.
As well as being a psychiatrist, Dr. Ann is also a public speaker and has given some great talks on nutrition at industry events.
She provides a lot of information on nutrition and metabolism on her Twitter profile, and she's always up to date with breaking nutrition news.
You can view many of her talks and thoughts on nutrition through both her website and Twitter account.
Eddie Mitchell
Eddie Mitchell is an extremely passionate promoter of the LCHF diet.
As a diabetic successfully managing his condition, he knows better than most about the importance of real food.
He has also established his own website that is dedicated to helping fellow diabetics. Cutting through all the misinformation, his website provides practical advice and some delicious diabetic-friendly recipes.
It's clear that a lot of hard work has gone into his website, at his own time and expense, which is very admirable.
Jan Vyjidak
Jan Vyjidak is a health advisory consultant focused on hospital patient outcomes and quality of care.
He certainly knows a lot about nutrition and favors the low carb diet when it comes to health.
Through his account, you can keep abreast of some of the latest nutritional research studies and outcomes.
Jorge Luis G
Jorge Luis G is one of the biggest supporters of real food-based nutrition.
He also has a great story to tell, showing how he rescued his family's health through simple nutritional changes.
It also seems that he's a great amateur cook if his food photography is anything to go by.
So for some great looking food, no-nonsense thoughts on nutrition, and a great deal of positivity; check out his profile.
Low Carb Down Under
The Low Carb Down Under website 'aims to bring together people with an interest in the low carb diet'.
Low Carb Down Under is a great resource and provides lots of articles, FAQs, videos, and the latest news on LCHF.
Particularly useful for those who live in Australia, the website also has a directory of all LCHF-supportive healthcare professionals.
Real Food Optometrist
Ever wondered how nutrition can affect your eyesight as you age?
If that sounds interesting to you, then here's another great profile to follow. The real food optometrist's profile contains lots of nutritional insight and studies.
It also helps show many of the things that are wrong with conventional nutrition beliefs through infographics and fun images.
Unhealthy Additives
While real, nutrient-dense foods are the main priority of LCHF, it's also best to avoid unhealthy additives in food and drinks.
In addition to the obvious things to avoid, such as trans fat, vegetable oils, and sugars, there are also many chemical additives.
Some of these have documented negative effects and others are controversial, but none of them are good for you.
For example:
BHA and BHT (preservatives derived from petroleum)
Food Colorings (Yellow #5, Red #1 etc)
Hydrolyzed Vegetable Protein
Interesterified Fat (an industrial replacement for trans fat, which may be even worse)
Monosodium Glutamate (MSG)
While this is just a short list, there are many other potentially harmful additives hiding in food.
But some good news: to avoid all of them, the only thing you have to do is eat LCHF style real food.
Key Point: For a healthy low carb diet, it's not only carbohydrate and fats that you should think about. It's also important to avoid unhealthy additives.
Videos
Here are three great videos related to LCHF, all of which explain the benefits in detail.
A Global Food Revolution by Dr. Andreas Eendelft
A brilliant video that explains everything that's wrong with modern diets, and what we can do about it.
Sugar: The Bitter Truth by Dr. Robert Lustig
It's important to realize that sugar doesn't just cause weight gain; it damages our entire body.
By watching this great video, you can find out everything you need to know. For instance; sugar's history, how nutrition politics whitewashed sugar, and what it does to your insides.
Enjoy Eating Saturated Fats: They're Good For You by Donald W. Miller
How were we convinced to eat foods that we didn't eat for more than 99.9% of our existence?
Why are so-called "heart healthy" vegetable oils bad? And why should we eat more naturally occurring saturated fats?
All the answers to these questions and a whole lot more are in this excellent video.
Weight Loss
Many people experience astonishing weight loss when they adopt a low carb diet. One of the main reasons for this is that LCHF foods result in much lower blood sugar and insulin levels (36, 37).
But is it really true that eating lots of fat helps you lose weight? For many people, it's difficult believing this due to all the contrasting advice.
So, should anyone need a little convincing, please see below.
20 Studies That Compare Low Carb and Low-Fat Diets For Weight Loss
Each of these studies specifically focuses on — or covers — weight loss on LCHF diets.
Note: this does not mean that all other diets are bad or cannot result in weight loss.
However, it does prove the "fat makes you fat" myth very wrong.
Harcombe Z, et al. (2016) Evidence from randomized controlled trials does not support current dietary fat guidelines: a systematic review and meta-analysis. View Study 1
Hu T, et al. (2016). Adherence to low-carbohydrate and low-fat diets in relation to weight loss and cardiovascular risk factors. View Study 2
Sackner-Bernstein J, et al. (2015). Dietary intervention for overweight and obese adults: comparison of low-carbohydrate and low-fat diets. View Study 3
Jackle, C (2015). Fueling performance: Determining the efficacy of low-carbohydrate diet models for athletic populations. View Study 4
Gower BA, et al. (2015). A lower carbohydrate, higher fat diet reduces abdominal and intermuscular fat and increases insulin sensitivity in adults at risk of type 2 diabetes. View Study 5
Johnston BC, et al. (2014). Comparison of weight loss among named diet programs in overweight and obese adults. View Study 6
Ruth MR, et al. (2013). Consuming a hypocaloric high-fat low carbohydrate diet for 12 weeks lowers C-reactive protein, and raises serum adiponectin and high-density lipoprotein cholesterol in obese subjects. View Study 7
Guldbrand H, et al. (2012) In type 2 diabetes, randomisation to advice to follow a low-carbohydrate diet transiently improves glycaemic control compared with advice to follow a low-fat diet. View Study 8
Lim SS, et al. (2009). Long-term effects of a low carbohydrate, low fat or high unsaturated fat diet compared to a no-intervention control. View Study 9
Volek JS & Phinney SD, et al. (2008). Carbohydrate restriction has a more favorable impact on the metabolic syndrome than a low-fat diet. View Study 10
Westman EC, et al. (2008). The effect of a low-carbohydrate, ketogenic diet versus a low-glycemic diet on glycemic control in type 2 diabetes mellitus. View Study 11
Keogh JB, et al. (2008). Effects of weight loss from a very-low-carbohydrate diet on endothelial function and markers of cardiovascular disease risk in subjects with abdominal obesity. View Study 12
Dyson PA, et al. (2007). A low-carbohydrate diet is more effective in reducing body weight than healthy eating in both diabetic and non-diabetic subjects. View Study 13
Daly ME, et al. (2005). Short-term effects of severe dietary carbohydrate-restriction advice in type 2 diabetes – a randomized controlled trial. View Study 14
Yancy WS, et al. (2004). A low-carbohydrate, ketogenic diet versus a low-fat diet to treat obesity and hyperlipidemia: A randomized, controlled trial. View Study 15
Volek JS, et al. (2004). Comparison of energy-restricted very low-carbohydrate and low-fat diets on weight loss and body composition in overweight men and women. View Study 16
Foster GD, et al. (2003). A randomized trial of a low-carbohydrate diet for obesity. View Study 17
Samaha FF, et al. (2003). A low-carbohydrate as compared with a low-fat diet in severe obesity. View Study 18
Brehm BJ, et al. (2003). A randomized trial comparing a very low carbohydrate diet and a calorie-restricted low-fat diet on body weight and cardiovascular risk factors in healthy women. View Study 19
Lean MEJ, et al. (1997). Weight loss with high and low carbohydrate 1200 kcal diets in free living women. View Study 20
Key Point: The science is certainly supportive of LCHF diets for weight loss. Dozens of studies clearly show that low-carb diets are equal to—or better than—low-fat diets for losing weight.
Xylitol, Erythritol, and Stevia
People often refer to Xylitol, Erythritol and Stevia as "natural sweeteners".
In spite of this, I'm not so sure I would call them entirely natural, but they are reasonably benign sweeteners.
To put it differently, they are a lot better for you than sugar and artificial sweeteners such as saccharin and aspartame.
There are a wealth of low carb recipes using these sweeteners for cookies, cakes, and other indulgent desserts.
Another key point is that they won't send your blood sugar crazy, which means they can be enjoyed by diabetics or strict low carbers.
While I wouldn't say these foods are healthy, they are a nice treat from time to time.
Your Diet
One of the most important things to remember about nutrition is that we are biologically unique.
In other words, the diet your favorite doctor, nutrition blogger or scientist recommends might not be the right diet for you.
We all function best on slightly different foods; some people have sensitivities to dairy or cheese, while others thrive on those foods.
While some people might feel great eating less than 20g carbohydrates a day, others might struggle and function better on a slightly higher carb plan.
In short, feel free to try something another person finds successful – but listen to your own body. The healthiest diet is the one that's right for you.
Key Point: Whether it's 20g carbs a day or 100g, every person is different. LCHF is very adaptable, so test different things and find the right way of eating for you.
Zoodles
Zoodles are a perfectly healthy substitute for wheat noodles. Presuming you don't know what zoodles are, they are just noodles made from zucchini.
They are very adaptable and can be used in a range of different dishes, so you should give them a try.
The Benefits of LCHF
In summary, LCHF diets are full of tasty, nutritious food and have a positive impact on overall health.
I hope you found this guide useful in some way. There are so many great low-carb resources online and I just wanted to try to bring some of the best content together.
Lastly, the biggest reason why people fail with low-carb diets is not understanding how to implement and adapt to them.
So, if you know anyone who is just beginning an LCHF diet, then please pass this on to give them a helping hand.