Low carbers know ketosis is the superhero of fat burning. Want to get there quickly? Try a few rapid keto techniques and eat specific low carb foods.
Why ketosis makes a difference in fat loss
Fast 3-Day Keto technique
Printable list of 200 keto foods
Online keto calculator
When carbs are restricted or absent from your diet, your body must rely almost solely on fat for energy.
Ketosis happens when your carb levels are very low, 20 to 50 carbs (or less) per day.
How to Reach Ketosis Quickly
The fastest way to reach ketosis using your diet is by limiting carbs: 20 to 50 grams per day, or less than 10% of total daily calories. Some low carbers eat less than 5%.
Specific diet and exercise techniques, such as intermittent fasting and high intensity interval training (HIIT) workout routines help you get into ketosis quickly and maximize your fat loss.
3 Day Keto Technique
This keto method helps eliminate liver glycogen stores rapidly. Follow this plan exactly, and you'll reach ketosis within a few days.
Day 1
Eat low carb during the day or avoid fruit, starchy veggies, grains, sugary treats, rice, bread and pasta.
Do not eat anything after 6 pm.
Day 2
In the morning before eating, perform a HIIT routine, another kind of intense exercise or weight training.
Start eating a ketogenic diet with 0 to 2% of calories from carbs. (0 to 5 grams of net carbs per 1000 daily calories.)
Example:
2% of 1000 daily calories = 20 calories.
Carbs have 4 calories per gram, so 20 calories = 5 carbs.
Day 3
In the morning (before eating) perform medium intensity, steady state exercises or weight training.
Continue eating high fat keto foods.
Allow no more than 5% of your total daily calories from carbs.
How to Know You're in Ketosis
The Natural Way
In addition to rapid fat loss, many low carbers experience a burst of energy and a lightened mood.
Some dieters notice a temporary, strange taste in the mouth and mild sweet breath odor, signaling they are in ketosis.
The Scientific Way
There is a popular way to measure ketones to tell if you are in ketosis: testing with strips.
Keto strips measure the presence of ketones, a result of being in ketosis.
Testing for Ketosis
Special test strips called keto sticks (or ketostix, keto strips) are used to detect ketones in the urine, a sure sign of ketosis.
I must admit, I love seeing dark purple on the end of my keto test strip. Keto sticks are a good detector of ketosis, but if the strip doesn't register the presence of ketones, you can still be ketosis. Why?
This happens when the urine sample is diluted from drinking lots of water. It's also possible to use up all the ketones during heavy exercise.
Using Keto Strips
Fat-adapted low carbers may not register ketones after being in ketosis for longer periods of time.
These low carbers use ketones more efficiently and levels may not be detectable in the urine, even though they are in ketosis.
Play it safe, rely on your eating habits and use keto sticks to 'check in.'
Online Keto Calculator
Use this keto calculator to determine your ideal nutrient intake for weight loss or maintenance during ketosis.
The low carb keto calculator creates a plan based on how much fat you would like to lose each week.
Enter your height, weight, age, daily carb intake and level of exercise.
The calculator recommends the optimum daily calories, fat, carbs and protein grams to help you get into ketosis and meet your weight loss goal.
Even though most of your calories are from high fat foods, once you get into ketosis your body burns the fat instead of storing it.
Keto ratio for protein/fat/carb calories:
Keto Meal Plan
Wondering what to eat? The Keto Beginning program goes a step beyond the usual low carb approach.
This keto meal plan offers an allergen-free, paleo-friendly, low carb balancing solution.
This plan does all the work for you, using sound nutrition and vibrant foods to create high fat recipes that are dairy-, gluten-, sugar- and grain-free.
The Keto Beginning uses whole foods to:
Enter fat-burning mode without 'keto flu' or going very low carb.
Bust through plateaus and maintain steady energy.
End food obsessions and strict eating schedules.
Printable List of Keto Foods
Plan your meals and a trip to the grocery with the printable keto foods list. These foods are keto-friendly and high in healthy fats.
Cheese
American
Blue Cheese
Cheddar
Cottage Cheese
Cream Cheese
Feta
Gouda
Mozzarella
Parmesan
Provolone
Ricotta Cheese
Swiss
Dairy & Dairy Substitutes
Almond Milk (unsweetened)
Coconut Cream
Coconut Milk (unsweetened)
Greek Yogurt
Heavy Cream
Sour Cream ((full fat)
Soy Milk (unsweetened)
Whipped Cream (unsweetened)
Dressings
Red Wine Vinegar, Blue Cheese, Creamy Caesar, Ranch, Olive Oil
Fats & Oils
Almond Butter, Oil
Butter
Cocoa Butter, Oil
Fish Oil (cod liver)
Flax Seed Oil
Grape Seed Oil
Hemp Seed Oil
Macadamia Oil
Full Fat Mayonnaise
Olive Oil
Walnut Oil
Organic Coconut Oil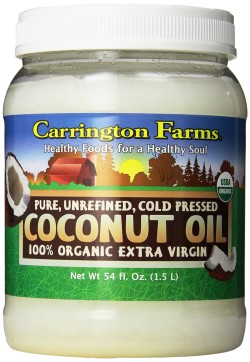 Carrington Farms Organic Coconut Oil is essential for rapid fat-burning. Fats from coconut oil aren't stored. Instead, coconut oil fats are used immediately for energy.
Coconut oil can last up to two years without spoiling. Coconut oil gives food a nice "buttery" (not coconut) flavor, and is one of the healthiest choices for cooking and baking.
Avocado Oil
La Tourangelle Avocado Oil is all-natural, expeller-pressed, non-GMO and Kosher. La Tourangelle has a fruity roundness – great for sweet and savory recipes.
Performance MCT Oil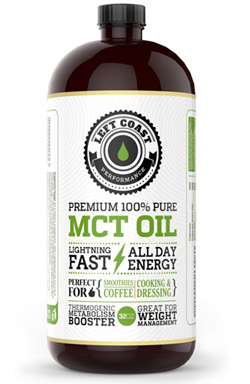 Left Coast's pure MCT oil converts into energy faster than other oils, ignites your body's metabolic rate and helps maintain healthy levels of cholesterol.
MCT oil is an easy way to increase your healthy fats. Add to salads, smoothies or your latest coffee fasting plan for immediate, all-day energy.
Triple filtered, pharmaceutical grade, BPA-free container, USA-made.
Seafood
Anchovy
Fresh Fish: Bass, Carp, Flounder, Haddock, Halibut, Mackerel, Salmon, Sardines, Sole, Tilapia, Trout, Tuna
Clams
Crab Meat
Lobster
Mussels
Oysters
Shrimp
Squid
Flours, Meals & Powders
Acorn Flour
Almond Flour
Almond Meal
Cocoa Powder
Coconut Flour
Erythritol
Flax Seed Meal
Protein Powder
Psyllium Husk
Sesame Seed Flour
Stevia
Eggs, Poultry & Fowl
Eggs
Chicken: Breast, Legs, Wings
Duck
Goose
Quail
Turkey: Breast, Ground, Bacon
Fruits
(low sugar)
Avocado
Blackberry
Blueberry
Cranberry
Lemon
Lime
Green Olive
Raspberry
Strawberry
Rhubarb
Tomato
Beef, Hot Dog/Frankfurter
Beef: Tongue, Ribs, Roast, Pastrami, Sausage
Beef, Steak: Filet Mignon, Rib Eye, Round, Sirloin, Strip Loin
Bologna (pork, beef, chicken)
Pork: Bacon, Chops, Ham, Liverwurst, Loin, Prosciutto, Sausage
Nuts/Legumes
Almonds, Brazil Nuts, Coconut, Hazelnuts, Macadamias, Pecans, Pistachios, Walnuts
Seeds
Chia, Flax, Hemp, Pumpkin, Safflower, Sesame, Sunflower
Vegetables
(low sugar)
Arugula
Asparagus
Bok Choy
Broccoli, Broccoli Rabe
Cabbage
Cauliflower
Celery
Chard
Chicory Greens
Cucumber
Eggplant
Endive
Fennel
Garlic
Green Bean
Jalapeno
Lettuce: Green Leaf, Romaine
Parsley
Radish
Spinach
Soy Bean
Zucchini
Vegetables
(moderate sugar)
Artichoke
Brussels Sprouts
Carrots
Celery
Kale
Kohlrabi
Mushrooms
Okra
Onion
Peppers: Sweet or Hot Red, Sweet Yellow
Pumpkin
Snow Pea
Spaghetti Squash
Turnips
Zero Calorie and Diet Soft Drinks
Citric acid in diet soft drinks throws some low carbers out of ketosis.
Alcohol
While in ketosis, your blood sugar is very low, so alcohol will have a more pronounced effect.
Drink slowly and cautiously. The hangovers are ruthless.
Hard liquors (scotch, vodka) may be consumed in moderation – they have only trace amounts of carbs.
Most wines have 1 to 5 carbs per serving. Sweeter wines have more carbs. Darker, drier wines have less.
Printable Keto Foods List
Almost Zero Carb Meal Plan
The Almost Zero meal plan is three easy days, one aggressive technique and major fat loss.
The Technique
150 Recipes (100 under 1 net carb)
Sample Menus, Shopping List
Printable Planner
If what you're doing isn't working, get the meal plan now.